January 15, 2009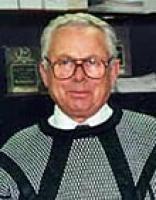 A charter member of Landscape Ontario passed away on Monday, December 8 at York Central Hospital. Steve Chanady, who began Avalon Landscaping, was one of the driving forces behind the creation of Landscape Ontario. Visitation was on Wednesday, December 10 at Marshall Funeral Home in Richmond Hill. A memorial service is scheduled at 10:30 on Thursday, December 11 at the Lady Queen of the World Church, 10411 Bayview Ave., Richmond Hill.
Among his many accomplishments, Steve Chanady is the creator of Landscape Ontario's bronze life member plaques. He was also one of the suppliers of the bronze plaques used at Toronto Walk of Fame. Avalon Landscaping continues today to provide design, construction and garden maintenance from its home base in Richmond Hill and Holland Landing. Steve Chanady started in 1965 in Toronto. Steve's training was as a horticultural specialist. Avalon's specialty at that time was planting and garden services. The demand for his company's services continued to grow under Steve's guidance, expanding to include all aspects of soft and hard landscaping that was demanded by the growing clientele.
The landscape industry also continued to expand, and business members began to express a need for an association that would represent all professionals in the field in a practical, educational and political environment. Steve Chanady, along with a group of other professionals, started to meet on industry issues on a regular basis. All who attended the meetings were in favour of a provincial association that they could all be part of. That association is Landscape Ontario, which was founded in 1973. Landscape Ontario brought landscape contractors, garden maintenance contractors, nurserymen, and other related sectors together to provide services that would enhance professionalism and business potential. What began as a small group of business people over 35 years ago, now boasts a membership of over 2000 members, and is the voice of the Ontario horticultural industry.
Steve's son Edward Chanady, a graduate of the Humber College Landscape Technology program, has been president and sole owner of Avalon since 1989. Steve Chanady continued to work in the company acting as a Supervisor and Project Manager.