December 15, 2010
LO members make a positive difference
Tony DiGiovanni CHT
LO Executive Director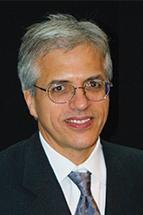 "What do all those people at Landscape Ontario do anyway?"
Every so often I get asked this question. It is the right question to ask. If you read the annual report from cover to cover, you will get a good idea. But I want to challenge you to do more.
The only way to get the full story is to participate. The only way to get the full benefit of membership is to engage with the programs, activities and governance of your association. I will guarantee that you will benefit personally, financially and professionally. The return on your investment will be much higher, as you transition from observer to participant to leadership.
Now let's answer the question more directly. You are an owner and investor in Landscape Ontario. Collectively, you have determined that the job of the association is to grow a prosperous, professional, ethical, valued and recognized green industry. This job is multi-dimensional and never-ending. No matter how many people we employ, you will require more, because it is not possible to complete the job of advancing an industry.
What is the reality?
Your financial investment in Landscape Ontario is roughly the cost of a coffee and doughnut a day. Of course, this does not include the huge investment of unpaid time and resources made by all the volunteers on various boards, committee and task forces. Collectively, this financial investment is equal to about $1-million. This is leveraged to approximately $9-million of mission-related activity. We are one of the largest horticultural trades associations in the world.
Our direct points of contact with the industry, public and government number in the hundreds of thousands. We produce four of the best horticultural trade shows in Canada and two premier magazines. We provide education opportunities for over 20,000 people. We organize over 200 seminars and events. We have become a professional development centre with over 1,800 students. We provide government relations services and host the largest consumer flower and garden show in Canada. We are the conduit for a community of mutual benefit and improvement and act as the human resources arm of the industry. We are focused on improving the image of our great and important occupation. We represent you. "We" really means "you."
By supporting the LO community, you are making a positive difference in promoting, representing and fostering the growth of the horticultural industry.
So what are all those people at Landscape Ontario doing? We are working to advance the industry and provide benefit to you. The details are in the rest of this issue, under the annual report. After reading it, you will know the answer to the question, and some you hadn't even thought of asking.
---
Tony DiGiovanni may be reached at
tonydigiovanni@landscapeontario.com
.