July 14, 2023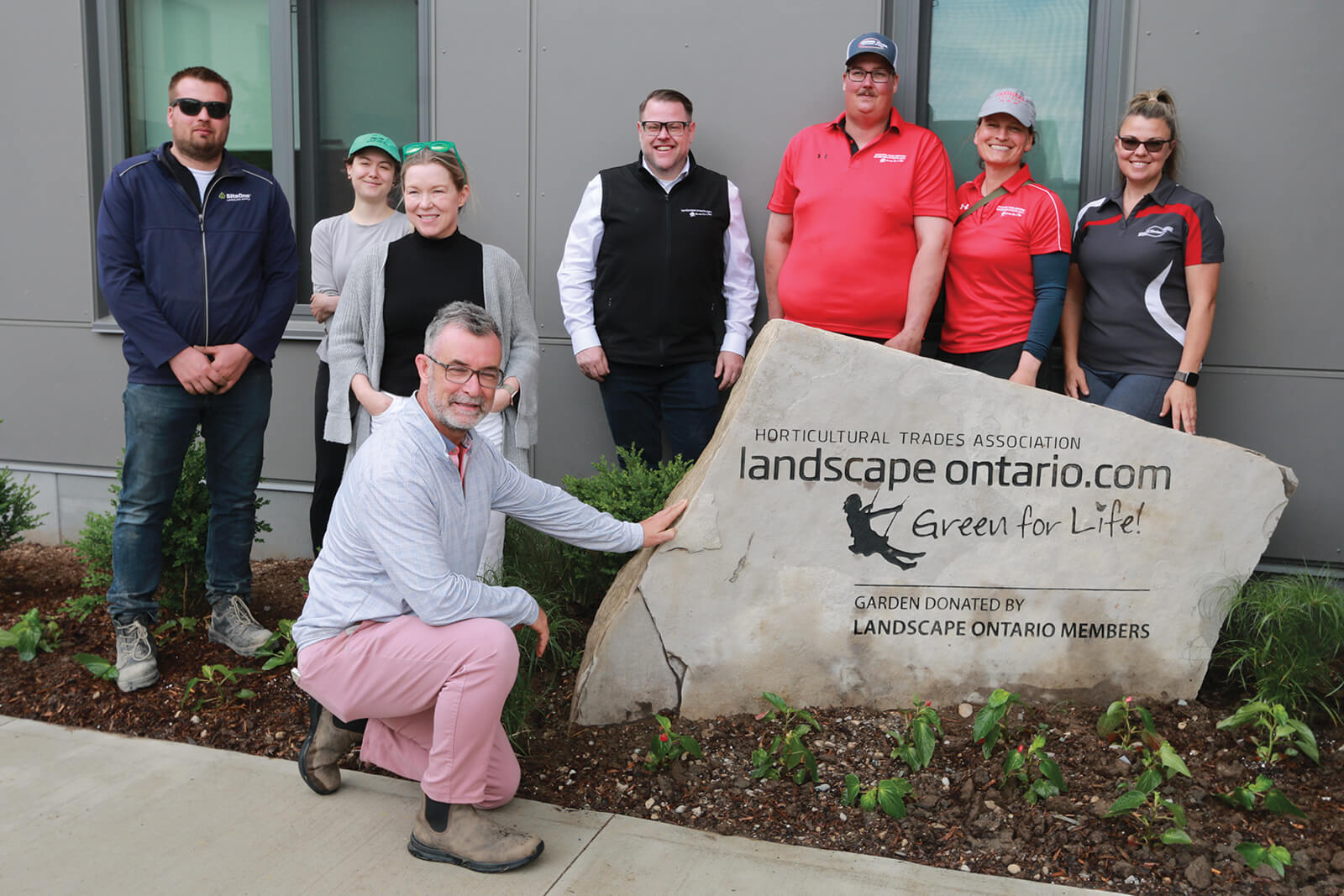 London Chapter completes project at Indwell residence
Members of Landscape Ontario's London Chapter put the finishing touches on a $140,000 community garden at Indwell Commons in London, Ont., on June 8.

The new $22 million building located at 740 Dundas St. contains 72 mostly single, affordable, supportive housing units. Indwell has over 1,000 such units in southwestern Ontario, with plans to more than double that amount in the coming years.

Julie Ryan, Community Engagement Coordinator at Indwell, took the opportunity to thank the project organizers. "On behalf of Indwell, we are really grateful for this donation. It's a lot of money, but it's also a lot of love."

London Chapter president Greg Schaafsma explained the project all began about three and a half years ago when London Chapter member Jay Murray brought Indwell's Julie Ryan to a London Chapter meeting. Ryan explained Indwell's mission to build more supportive housing units in the province and the chapter board soon after visited Indwell's Woodfield Gate apartments in London. Schaafsma said the chapter board then committed to raising funds for the project.

Schaafsma explained some of the funds were raised via a charity casino night and silent auction organized by the chapter that also helped to "raise awareness of Indwell's supportive housing model."

Jay Murray, owner of TLC Professional Landscaping explained that Indwell secured the vacant site at 740 Dundas Street from a developer a few years ago.

"I've been a Landscape Ontario member for 35 years and what I've seen again and again is how dedicated landscape people are to gardens and to having a positive impact on people's lives," Murray said. "We've done three or four projects this big in the last 15 years and there's a lot of generosity there, which says a lot about the kind of people that are in the landscaping industry."

Murray said he was very impressed with the amount of money Landscape Ontario was able to raise and also the willingness of people to step up and contribute. Murray said he is equally impressed by how professional and good Indwell are at building buildings — from planning to securing funding from various levels of government. "Not only can they build it, but they can run it," Murray explained.

At the garden unveiling on June 8, London Chapter volunteers, LO executive director Joe Salemi, staff from Indwell, and a few of the building's residents held a small planting to put the finishing touches on the project.