January 15, 2016
Look at attending chapter meeting
By Rachel Cerelli
Membership and Chapter Coordinator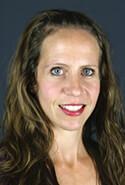 Feeding one's mind is sometimes ignored when we get busy with work, family and life. It seems that happens more and more often.
Some may have the luxury of a little more time to yourself this time of year. If so, through Landscape Ontario there are a variety of options to help feed your mind. LO staff person Kathy McLean has done her research and coordinated a large variety of amazing seminars to suit everyone's needs.
Your Industry's Professional Development Guide can easily and conveniently be found online at
horttrades.com/seminars
, or contact home office for a paper copy sent directly to you free of charge.
There are many seminars available to interest all requirements, from the eager staff person wanting to learn some new skills, to seminars for business owners and supervisory staff looking to better their skills. You can be sure if there is something you think you may want to learn or brush up on, your industry's Professional Development Guide has something for you.
As members of Landscape Ontario you are entitled to attend any chapter meeting across this great province. To find out what is going on in your local area, we invite you to visit horttrades.com/(Durham, Georgian Lakelands, Golden Horseshoe, Ottawa, Toronto, Waterloo, Windsor, Upper Canada). Please feel free to connect with home office.
The majority of the chapters host a variety of meeting topics from October through to late March to early April. The meetings are sometimes geared towards specific sectors, but typically anyone no matter the stage of their career, may attend any one of these meetings and walk away with more knowledge and confidence than they did walking in. It is at these meetings where you will learn to overcome any obstacles you face with your business, as well as network with like-minded professionals.
Some people find that attending a meeting for the first can be a little over whelming. Yes, some of the members in the room have been going for years and know most of the people in the room. But, every one of these people also once went to their first meeting knowing few others in the room. So take the leap, come out. Let me know you are coming, maybe I can help with making some connections, and it won't be as scary as you think.
And, to those who have been going to these meetings for years, open your eyes, look around a bit, and welcome any new faces to the room. Give them a warm welcome.
---
For more information on how you can get involved in your chapter, contact Rachel Cerelli at
rachel@landscapeontario.com
.