March 15, 2009
Robert Adams
LO President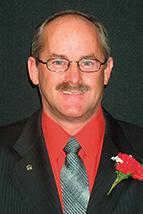 We have made it. Winter is almost over. Sure we may see a few flurries, but the light at the end of the tunnel is becoming very bright. And, it's not a day too soon.
We have all heard it before: "No one knows what the future holds for us." Yesterday is in the past. Today is the present. Tomorrow is a mystery.
YESTERDAY: What has been done to get you to where you are today? Foundations were laid for a path to be travelled to attain goals, dreams and aspirations. We reflect on what seemed a simpler time. Was it really? Was it "easier" to realize our goals back then?
TODAY: We have made it this far! We have been busy building our businesses, mentoring, enriching your staff and clientele with information and developing your skills in many directions.
TOMORROW: We will need to discover new techniques, try to complete tasks in a different manner and develop new partnerships. One thing is certain. WE WILL SUCCEED!
Remember, landscapeontario.com Green for Life.
Please, if you have an idea or concern, contact me at
robertadams@landscapeontario.com
. I encourage you to become involved in LO. It is your association.