February 28, 2017
Industry News
Strong attendance at Landscape Ontario's Congress '17
More than 13,650 green professionals attended Landscape Ontario Congress '17, marking the second-largest turnout in the show's 44-year history. Canada's premier green industry trade show and conference featured over 600 exhibitors at the Toronto Congress Centre Jan. 10-12.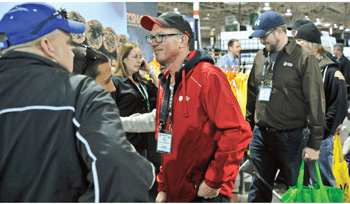 "To achieve modern gardens, landscapes, nightscapes, outdoor living space or to source the latest trends in gardening, our members and visitors need to have a one-stop buying venue," comments show manager Heather MacRae. "Congress' popularity with our contractors makes us proud. Welcoming back retail suppliers and independent garden centre owners, our partners from Garden Expo, added excitement to the show after a 16-year hiatus."
Congress '17 was highlighted by the Landscape Ontario Awards of Excellence ceremony, the popular Tailgate Party as well as a fantastic lineup of industry leading speakers and conferences. Hardscape Live! returned for the second year, providing live ICPI hardscape installation demonstrations, and members of the Ontario Provincial Police took audience members through vehicle safety and inspection information on the show floor. Next year's Congress takes place Jan. 9 -11, 2018.
Labour shortages expected to continue
New research suggests that Canada's horticulture industries are at risk of becoming increasingly vulnerable to labour fluctuations, as their dependence on foreign labour sources rises rapidly, the Canadian Agricultural Human Resource Council (CAHRC) says.
The CAHRC has completed a three-year study on Canada's horticultural industries, which examined labour-related issues and provided labour market forecasts to 2025. The research revealed that in 2014, horticulture accounted for 107,700 jobs. However, an additional 5,800 jobs went unfilled as a result of domestic labour shortages, and these shortages cost $353 million in lost sales. As horticulture's labour issues worsen, those costs are likely to rise.
Key factors affecting horticulture's increasing dependence on foreign labour over the next 10 years include a high rate of retirement among current domestic workers, a shortage of domestic workers with the needed skills and experience, negative industry perceptions among domestic workers, and the tendency of horticultural operations to be located in rural areas where housing and transportation pose challenges. The Greenhouse, Nursery and Floriculture Report can be downloaded at www.cahrc-ccrha.ca/agriLMI.ca.
Canada Blooms celebrates nation's birthday
There will be a whole lot of red and white at Canada Blooms 2017, as the country's largest flower and garden festival celebrates the nation's 150th birthday. With the theme "Oh! Canada," the festival is inviting design/build professionals and floral experts to dazzle visitors with unique interpretations of the True North, strong and free. With some 30 gardens in the works, this year's festival promises to one of the most beautiful and vibrant displays of the green professions to date.
"We are proud of the strong relationship we share with landscape professionals and sector groups and look forward to another fantastic show," said Terry Caddo, general manager of Canada Blooms. "One example of that connection will be the grower's group plans to create a display promoting the benefits of using material grown in Ontario. The display will incorporate interactive apple tree grafting provided by Winkelmolen Nurseries, and a different grower will be on-site each day to meet the public and answer questions. It really is an exciting opportunity to get their message out to the public."
The annual event is set for March 10-19 2017 at the Enercare Centre in Toronto, Ont. For more information, visit canadablooms.com.
COPF announces plans to dissolve
The Canadian Ornamental Plant Foundation (COPF) has announced plans to phase out its royalty administration and monitoring services by March 31, 2018.
"The closure of COPF is a reflection of new industry realities including the offshore propagation of herbaceous plants, direct licensing by breeder companies, new germplasm being introduced and monitored by large branded cultivar collections and a steady decline in the number of plant propagators and growers as consolidation takes place at many levels in the nursery industry," COPF said in a statement. "COPF is presently in a strong financial position as a result of strategic cost cutting and an increase in the royalty administration rate. We wish to phase out our activities in a manner that ensures that all commitments to breeders and growers will be met and that royalty administration and monitoring can be carefully transferred to other industry participants."
Butterfly weed named Perennial Plant of the Year
The Perennial Plant Association has selected
Asclepias tuberosa
the 2017 Perennial Plant of the Year. "With all the buzz about bees and butterflies, why not celebrate an excellent plant known for its ability to support insects and birds and serve as the primary caterpillar food for a beloved North American native butterfly?" the association said.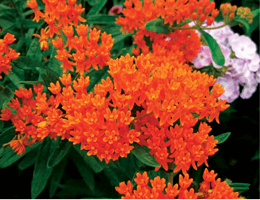 Commonly known as butterfly weed, the long-lived perennial is native to Ontario and Quebec as well as much of the Continental U.S. With vibrant orange, red and yellow flowers that seem to jump out, butterfly weed is a great addition to a sunny garden with average to dry soils. As the common name suggests, these plants are butterfly magnets. Butterfly weed is a member of Apocynaceae, or milkweed family, including plants with a milky sap poisonous to most insects.
Hanes Geo Components acquires Terrafix
Hanes Geo Components, of Winston Salem, N.C., announced an agreement to acquire Terrafix of Toronto, Ont. John Dowdell, President of Hanes Geo Components, commented, "Terrafix is a clear leader within the Canadian market in the distribution of geosynthetic products. Their expertise in manufacturing of geosynthetic clay liners and their experience in liner installations offer important market expansion opportunities to the Hanes family of companies."
The Terrafix team will continue to operate as Terrafix. David Fuerth has been promoted from Vice President of Sales to President of Terrafix. Fuerth commented, "We are excited to join the Hanes team. Our founder Dennis Hewitt built our company on a strong foundation of providing technical support and a high level of service to our customers. These are core values we see within the Hanes team as well. We anticipate a smooth operational transition followed by a renewed commitment to grow our position within the Canadian market."
Chemchina-Syngenta deadline extended
European Union anti-trust regulators have extended the deadline for a decision on the $43 billion takeover of Swiss seed and pesticide company Syngenta AG by the state-owned China National Chemical Corp (ChemChina), to April 12, 2017.
Already approved by United States securities regulators, the potential merger marks the latest development in the rapidly consolidating global chemicals industry. A recent report by Reuters media says a source close to the deal believes the two companies may need to sell off a number of minor assets in order to receive EU approval.
Toro acquires Regnerbau
The Toro Company has completed the acquisition of Regnerbau Calw GmbH, a privately held manufacturer of professional irrigation equipment. Headquartered in Althengstett, Germany, Regnerbau Calw GmbH manufactures a variety of irrigation products under the Perrot brand, including retractable sprinklers for sports fields, impact sprinklers and coupling systems for
agricultural fields, and rain guns for industrial applications.
AAS announces second group of 2017 winners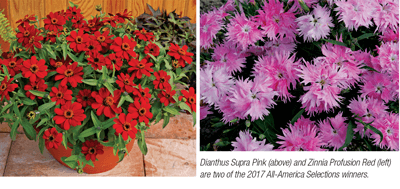 All-America Selections presents 11 AAS Winners for the 2017 garden season. Each of the selections was trialed in North America by professional, independent, volunteer judges during one growing season. Each was trialed next to comparison cultivars that are considered best-in-class among those currently on the market.
The latest group of AAS Winners for 2017 includes Dianthus Supra Pink, Fennel Antares, Geranium Calliope Medium Dark Red, Penstemon Twizzle Purple, Pepper Mad Hatter, Tomato Chef's Choice Yellow, Tomato Patio Choice Yellow, Verbena Endurascape Pink Bicolour, Vinca Mega Bloom Orchid Halo, Vinca Mega Bloom Pink Halo and Zinnia Profusion Red. These winners were announced in November of 2016, joining Celosia Asian Garden and four edible cultivars announced in July.
Landscape Trades, March 2017