March 15, 2012
Management and wisdom are tools
Tony DiGiovanni CHT
LO Executive Director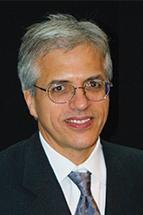 It is intriguing how much can be communicated using a few words, a short story, song lyric, or well chosen image. It's a skill I aspire to. I need a lot more practice.
Here are a few of my favourites:
Green for Life
The emphasis is on "life." The reason that plants and gardens are so important is because they enhance lives. Whenever someone sees the green for life tagline they are reminded of the connection between living green space and quality of life. We are in the green for life business. Wear it with pride.
"When you stare at too much concrete, you forget the world is alive."
This is a lyric from a Bruce Cockburn song. I love how simple and profound it is.
Prosperity Partners
We use this phrase to describe our business enhancement program, but it is so much more. It is a mission and a way of life. What would be the downside of seeing every interaction and relationship within the framework of being a partner in someone's prosperity? To me, the phrase describes the purpose of our association better than anything else. LO exists to encourage and nurture a membership that sees each other as prosperity partners.
"A candle loses nothing by lighting another candle."
I heard this saying at a recent CNLA meeting in Halifax. What a great image for what our members do every day as they work together; even as competitors. It reminds me of another story I have often told to describe the benefits of membership. Years ago I asked Joe Pepetone (Holland Park Garden Gallery) why he was so free sharing business information at a Garden Centre Commodity Group meeting, when his competitors were sitting around the table. "It's easy," he said. "Do the math. If I offer one good idea in a room with ten competitors and they do the same, I receive nine ideas back."
"It's about the people."
Tim Kearney and I have often talked about this. Even though many of the programs and activities of Landscape Ontario are about enhancing businesses, competency and professionalism, when you boil it down it's about enhancing each other's lives. The business part is almost an excuse. President of CNLA Bill Stensson recently made the same observation in his closing remarks at the Halifax meetings. He said, the longer he participates in the association, the more he realizes that "it's all about people."
Here are a few more that do not require any explanation:
"We are in the business of enhancing lives."
Perry Molema used this saying at Windsor Chapter meeting.
"We are stewards of creation."
These words were uttered by Paul Fraser from Somerville Nurseries at a Growers Auction. He was describing why he loved working in the industry.
"Leadership is a choice, not a position."
I heard this one from Steven Covey. He was describing that all great contributions, cultural shifts, organizations, ideas, philosophies and social movements start with a choice of one person. Regardless of their position, these people first changed themselves from the inside out.
"Hard on process; soft on people."
This is from Jim Paluch. When things go wrong, the first question that needs to be asked is how can the process be improved to prevent a recurrence? Being hard on the people will make matters worse.
"What you focus on grows."
I heard this from Tim Glover from Jump Point when we were developing the Prosperity Partners program.
Now for some business tools:
OJT
"If you tell me, I will listen. If you show me, I will see. But if you let me experience, I will learn." — 5th century BC philosopher, Lao-Tse (also known as Lao-tzu).
In the next year you will hear a lot about the OJT program. It stands for On the Job Training. On the job training is the primary way our industry has since the beginning transferred skill and knowledge from one person to the other.
If you think about it, there are 70,000 employees in our sector with only 300 coming out of the various education institutions each year. How are all these people trained? How were you trained? The reality is that owners, managers, supervisors and foremen are all in the training business. It's more complex in a seasonal industry that utilizes many summer students.
Would it not be revolutionary to develop a process that would accelerate and improve training results? Would it not be ground-breaking if this process accelerates the transfer of skills quickly and effectively, leading to amazing increases in productivity, results, employee loyalty and customer satisfaction? It has its genesis at the start during World War 1 to provide a method to quickly produce trained workers. Landscape Ontario has embraced this process as a priority. For more information go to
http://bit.ly/xK0etN
. Our first seminars were sold out. We are planning many more. Watch our weekly enews for specific dates and locations.
Prosperity Partners
This business enhancement program is a must. The reaction from members (large and small, experienced or not) has been very positive. The Prosperity Partners program simplifies the elements of your business by using the analogy of five pillars that hold up the roof of prosperity. Companies must continually improve competency in each pillar in order to thrive. Please see here for more information:
www.horttrades.com/prosperity-partnership-initiative
.
Certification and apprenticeship
Certification and apprenticeship are also amazing tools. You can find information on the Certification programs at
www.landscapeontario.com/industry-certification
.
For information on the apprenticeship programs go to
www.horttrades.com/apprenticeship.
HR Toolkit
Another great tool for your benefit is the Human Resource Tool Kit. You will find a great deal of excellent information that will help you deal with recruitment and retention as well as policies, procedures, regulatory compliance and best practices. Go here for more information.
www.horttrades.com/HRtoolkit
.
I started this article by saying that I aspire to be brief. I have not mastered the skill yet. Have a great spring. See you at Canada Blooms from Mar. 16 to 25.
---
Tony DiGiovanni may be reached at
tonydigiovanni@landscapeontario.com
.