July 19, 2010
Meet your new membership and chapter coordinator
By Helen Hassard
Membership and Chapter Coordinator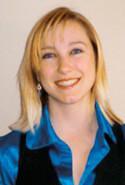 I'd like to introduce myself as Landscape Ontario's new membership and chapter coordinator. It's so exciting to join such an enthusiastic and highly functional group of people.
My background is in the education industry, so when I first approached LO about the position, I wasn't sure how well it would go over. I wondered if during my interview they would ask me to identify species of trees, or explain the proper way to lay interlocking brick. Either question would have left me stuttering for an answer. I soon realized that horticulture and education have a lot in common; both industries are huge and no one expects me to have all the answers.
The second thing I noticed is both are focused on building a brighter future, whether encouraging others to improve, or making the improvements ourselves. Lastly, in horticulture, like education, people are driven by passion. We work hard, because we can't imagine working any other way.
Sure there is money to be made, but that's not what drives us. How many of you work 13 hour days, seven days a week, only to use your down time to work on your own garden, or property?
There is one other thing I've noticed that educators and people in the horticulture industry have in common; they know how to have fun. To help with this, our chapters have each organized an exciting summer of activities to help you cut loose. The golf tournament schedule goes as follow: Upper Canada on July 16, Toronto on July 22, Golden Horseshoe on Aug. 18, Georgian Lakelands on Aug. 26, Ottawa on Aug. 27, London on Sept. 10 and Windsor on Sept. 11. In addition, Toronto is holding a baseball tournament on Aug. 15 and LO is offering an Argos and Tiger-Cats football game on Oct. 15. If you're like me and have a lot of energy and a fuel efficient car, you're welcome to register for all nine events. Registration details are available online on horttrades.com, or contact me directly at
hhassard@landscapeontario.com
.
---
Helen Hassard may be contacted at helen@landscapeontario.com.