December 15, 2011
Tony DiGiovanni CHT
LO Executive Director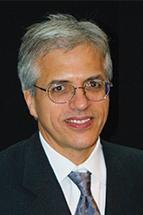 December is a time for reflection. This year has been a challenge for many of you, yet what stands out is your persistence, perseverance, tenacity, passion and willingness to contribute time and resources to improve the industry, association and community.
I doubt other industries have so many individuals who are so generous and contribution-minded. Please read my
Annual Report
(page 17) for a glimpse at some of the great projects members and chapters were involved in this past year.
While compiling the wonderful stories of how our chapters are enriching their communities, I began to wonder about your individual contributions outside of the association. I sent out an email asking for your stories. The response was incredible. Over the next few months we will create a section in
Landscape Ontario
magazine to tell the story of how our members "give back" to make the world a better place. I found reading the stories very inspirational.
The President
In an association like ours, the president represents the membership. He represents you in front of the public, government officials, other members and the broader horticultural community. In my position as executive director, I am in the privileged position to support the president. I get to see what each person who serves that position is made of. I experience first-hand their sincerity and care for association members.
Tom Intven's term as your president will be over at Congress. It is difficult to believe that two years have gone so quickly. I was in Ohio at the Great Lakes conference when my counterpart from Minnesota told Tom how influential his articles in Horticulture Review have been. Whenever I am with Tom at any LO event, someone stops to tell him the importance of his ideas and messages.
Tom has represented us well. He reflects integrity, intelligence, empathy, thoughtfulness, sensitivity, caring and professionalism. I feel proud at the way he represents all of us. He reflects the best. Join me in congratulating Tom for a job well done. We look forward to his service as a 'lifer' in other activities of the association. The wonderful part of this job is that many members become friends. It is a good thing to have Tom as a friend.
I would also like to congratulate Phil Charal, the new incoming president. Phil has been a perennial contributor to LO for many years. We look forward to his presidency.
At this time of year, I want to thank the staff of Landscape Ontario. We have a unique team at LO. There are no slouches. They are like family. They care. They love to support the membership.
Your staff wishes you all the best in 2012. We look forward to being your prosperity partner.
---
Tony DiGiovanni may be reached at
tony@landscapeontario.com
.