May 15, 2015
Membership appreciation tour 2015
By Myscha Stafford
Membership and Chapter Coordinator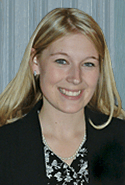 Last month I wrote about the value of attending chapter meetings, and including your staff in these events. This prompted LO's director of public relations Denis Flanagan and I to take a closer look at how many people are coming out to these events. We also looked at our current membership numbers.

As of this writing, membership is at an unprecedented level. Landscape Ontario has the largest number of members in its history, 2,486. We are seeing a reflection of this growth at our events, as well.

From July 2014 to April 2015, our nine chapters have hosted over 70 meetings, special events and community engagement projects. Over 1,500 people have attended chapter meetings, and over 2,000 came out to the various special events hosted by the chapters.

Golden Horseshoe Chapter's Gear Up for Spring Trade Show alone saw over 350 in attendance. This event was a tremendous success, and like all our events, we must offer a special thank you to the volunteers who made it happen, as well as the vendors, generous sponsors, and of course, everyone who attends.

From these numbers, it is pretty clear that these events are unique opportunities for you to connect with industry colleagues and suppliers, in addition to experience fantastic speakers and education forums. Your chapter executive boards are in the process of planning your fall and winter meetings for 2015 and 2016. We will have these dates and topics available to you shortly, so that you and your staff can plan ahead. Details will be available on your chapter's webpage.

Here in Milton, we have a busy summer ahead. Once again, your membership services team will visit job sites. This gives us a chance to see your incredible work. It also provides us an opportunity to thank your clients for hiring an LO member and to spread the word to the general public educating them about Landscape Ontario's Green for Life message.

You can view photographs of last year's membership tour at horttrades.com. Go to About Us. Click on Members on Job Sites. If you have a particular job site that you'd like to show off, please let us know so that we can include you in the Membership Appreciation Tour 2015.

While we are spreading the message of Landscape Ontario, Active and Associate members can do the same by including the Green for Life message in your company's marketing. We have a variety of Landscape Ontario Green for Life promotional items available, including decals and bumper stickers, for our Active and Associate members, as well as press releases.

These are great tools to distinguish your company as professional, in addition to your own branding. We also have Green for Life brochures available (with personalization space allocated) to share with your clients and potential customers on the benefit of hiring a member of Landscape Ontario and information about the Green for Life brand. You'll be helping to share the message from Landscape Ontario and trumpet your company's commitment to professionalism and excellence. You can access these logos and promotional materials at horttrades.com/green-for-life.

Your membership services team is also undertaking a new project this season, which was inspired by something we learned on our member visits last year. We found that there are a lot of potential members visiting our Associate members (suppliers to the industry).

The purpose of these events is twofold; we want to connect with current LO members, and with potential members. During the spring and summer months, you don't have time to make the trip to the Milton office, and there are no chapter meetings during those months, not allowing us to connect with our members. Visiting suppliers during their open houses or special events, and on the busy days of the week, will give us the opportunity to catch up with you, as well as connect with potential members. We will have plenty of LO paraphernalia and swag, and of course a bit of food.

In addition to our onsite visits and appreciation days, our chapters are hard at work planning summer events, as well as fall chapter meetings. We have another full roster of golf, baseball and putting tournaments in the works, as well as an exciting new event with the Waterloo Chapter which will host its inaugural family fun day this July.
---
Contact
Myscha Stafford
with your questions about LO member benefits.