June 15, 2016
New membership growth challenge realized
By Myscha Burton
LO Membership and Chapter Coordinator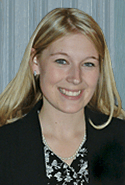 For this fiscal year, your provincial board set a goal of increasing LO membership by 10 per cent. To achieve this, we needed at least 252 new members. I am very pleased to announce that as of April 30, we have achieved this goal of a 10 per cent increase in new members to Landscape Ontario! This number of new members is unprecedented, and we are thrilled to see such healthy growth in Landscape Ontario.
Since September, we have received over 300 new member applications, but the campaign officially launched at Congress in January 2016. Three days and thousands of people make for a terrific environment for meeting potential members — and re-connecting with current members. Post-Congress we had a list of over 50 inquiries from the LO booth, and over 500 individuals identified as potential members who had requested more information. These companies were contacted multiple times throughout the winter and will also be contacted again this summer if they are not yet members. As a result of a very successful show, the month of January alone saw an increase of 32 per cent in member applications. We have also been engaged with personal contacts to potential members attending our winter seminars, as well as social media followers who are not yet members.
Member retention is key
Now that we have gained a 10 per cent increase in members, our challenge continues as we look toward increasing membership retention during our renewals process beginning in August. Challenge accepted.
New video campaign
A new video campaign was started at Congress featuring 30 benefits of membership in Landscape Ontario as told by our members attending and exhibiting at the show. Short clips from these videos have been used to create our #MembershipMonday videos appearing on Twitter and Facebook, leading up to the grand unveiling of two promotional videos for membership. One is geared towards contractors and designers, the other is aimed at suppliers, nurseries and garden centres. Thank you to all of the members who participated in our videos. You can find the videos on our YouTube channel at
youtube.com/user/landscapeontario
, or on our Facebook page.
While we have reached the goal of a 10 per cent increase in new members, we are by no means finished. In addition to following up again with the leads from this past winter, our summer plans include Member Appreciation Days at associate member locations as well as nurseries and garden centres. On June 7, we set up at Baseline Nurseries in London, July 6 we are at Sheridan Nurseries in Mississauga, and July 11 your Eastern Ontario team will be at Geosynthetic Systems in Ottawa. More dates will be announced for member days in Windsor, Waterloo, Durham, Golden Horseshoe, Upper Canada and Georgian Lakelands.
Chapters get social
We also hope to connect with potential members at our many summer events. If you know someone who would benefit from membership in LO, please encourage them to attend a golf tournament or other social gathering, so they can meet other professionals and see what Landscape Ontario has to offer them.
The Waterloo Chapter's 2nd annual family day returns to Bingemans in Kitchener on July 17. Golf season begins with the Toronto Chapter on July 21, and continues nearly every Friday in August with Upper Canada on August 12, Golden Horseshoe on August 19, and Ottawa on August 26. Waterloo, Windsor and London chapters will be hosting their golf events in September, in addition to the annual Chicken Roast with the Golden Horseshoe Chapter. Details and registration for these events can be found at
horttrades.com
.
Do you have a comment about our current renewals process? We'd love to hear it. Please share your feedback.
---
Contact Myscha at
myscha@landscapeontario.com
or call 1-800-265-5656 ext. 2333.