April 1, 2011
Old-time forgotten favourites
BY DAVID VAN DE VEN
Over the past twenty years
(give or take, of course), so many new herbaceous perennial plants have been introduced, inevitably many of the old-time favourites have become forgotten. Truthfully, many of the old-time perennials should be forgotten, many were overly aggressive or melted in the summer heat, certainly of little use in the professional landscape design. However, a substantial list of plant material seems to have been overlooked. simply because of new introductions.
If I look back to our catalogue from the mid-1990s, we listed only two
Heucheras, H.
'Palace Purple' and
H.
'Bressingham Hybrids'. I would no longer recommend either for professional planting, although one variety still seems to be used all too often. Our list this year includes upwards of 40
Heuchera
cultivars, all carefully selected and trialed, and yes, H. 'Palace Purple' is still in the line-up, but not because I like it!
Aconitum
(monkshood),
Campanula
(bellflower),
Chrysanthemum
(including sub-species like
Leucanthemum
) and
Delphinium
are just a few examples of under-used, old-time favourites. Breeders have improved many and some have even been marketed successfully. But in some cases, in my opinion, the older varieties are still superior choices for the professional landscape. Here are a few suggestions, and there are many more that just won't fit on this page.
Aconitum
Monkshood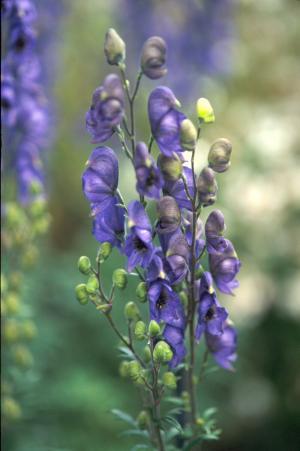 Aconitum
is known as a blue/purple flower because most cultivars offered for sale fall into this range, but it is also available in shades of white/pink and yellow. Regardless of colour, all are excellent plants for the professional landscape, as long as located away from any edible plant. Make no mistake, all parts of this plant are poisonous to mammals. I cannot think of a mammal (domestic or wild) that I have seen eating this plant. Animals quite simply leave this genus alone, so if deer, rabbits or squirrels are a problem where you are, it may be another reason to plant
Aconitum
- no nibblers will mess with it. Monkshood is a very upright, stately plant with excellent growing habit that flowers from mid summer to fall, and prefers full sun. Zone hardy to two or three and typically grows 80 to 140 cm tall, depending on species. Water requirements are in the normal range, but it does prefer moist soil. Although I haven't seen it for many years, I do remember seeing large groupings of this plant in a professionally designed garden - unbelievable! Ideally, it should be planted in the background in a location that its late-summer flowering period can be enjoyed. Some specific recommendations would be A.
x cammarum
'Bicolor',
A. carmichaelii
'Arendsii' and
A. henryi
'Spark's Variety'.
Photo: Walter's Gardens
Iris sibirica
Siberian iris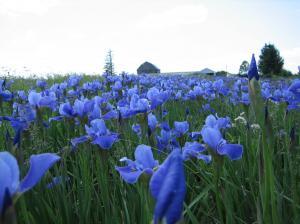 I know, I know - in a previous article I mentioned greatly preferring
Iris ensata
(Japanese iris) to the ever-popular Siberian iris, and that still is true. However, Siberian iris does still have great potential for the professional landscape, and typically the price is a little better for the Siberians. I do have to admit, though, that I would not recommend many of the newer introductions to a professional. I still prefer the older varieties of
Iris sibirica
- much stronger flower colour is my reasoning. Many of the newer varieties appear with wishy-washy flower colouring; look closely and you will notice some great markings on the petals (typically the tetraploids), but from a distance the colour does not stand out. So I'd recommend planting some of the older varieties (
I. sibirica
'Caesar's Brother',
I. sibirica
'Ruffled Velvet' and
I. sibirica
'Snow Queen') in larger groupings if the space allows. Plant the newer varieties, paler colour but just as vigorous, in smaller gardens or as a focal point. All Siberian iris are rated zone three, prefer full sun (will do in partial shade) and moist soil conditions. They will grow 70 - 90 cm tall, depending on selection. Keep them in the gardens, as flowering time will be very shortened in a container. This is still a great plant with many uses in the professional landscape.
Phlox subulata
Creeping Phlox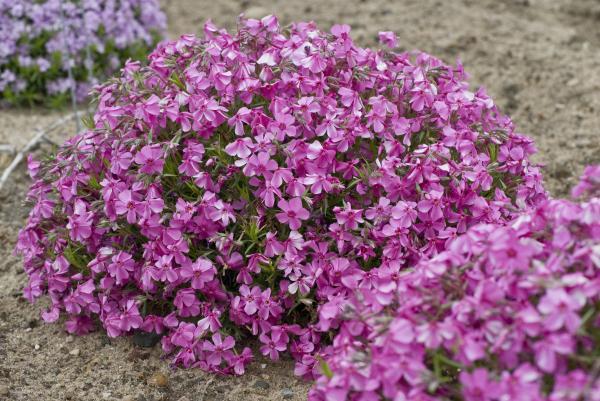 I'm not going to go into long detail about this old favourite; as a professional, I assume that you already know about this one. But some varieties are much better suited for the professional landscape design based entirely on growth habit. There really haven't been any major improvements in breeding on
Phlox subulata
lately. I'm not sure if it is simply because of over use many years ago, or if nothing new has been introduced that is different and improved. Creeping phlox are generally categorized by colour groups, but in my opinion these groups do not exactly have strong division lines. Many of the blues cross into the pinks which cross into the reds, and don't even mention the whites! Categories aside, there are strongly-coloured varieties that do have excellent growth habits suitable for a professional landscape design. Creeping phlox grows 10-15 cm tall; plant them in large masses for the ultimate show. Containers will work too, but flowering time is relatively short. I prefer
P. subulata
'Dirigo Arbutus' - considered to be lavender when in flower;
P. subulata
'Emerald Blue';
P. subulata
'Millstream Daphne' - intense pink blooms and
P. subulata
'Snowflake'. I prefer these selections for their nice, tight growth habits, their appearance in the warmer summer months and low maintenance requirements. All are hardy to zone two, need full sun and well-drained soil. Certainly an old favourite worthy of making it back on to your professional plant list.
Photo: Walter's Gardens
---
David Van de Ven is a perennial grower in Mount Albert, Ont.