February 8, 2021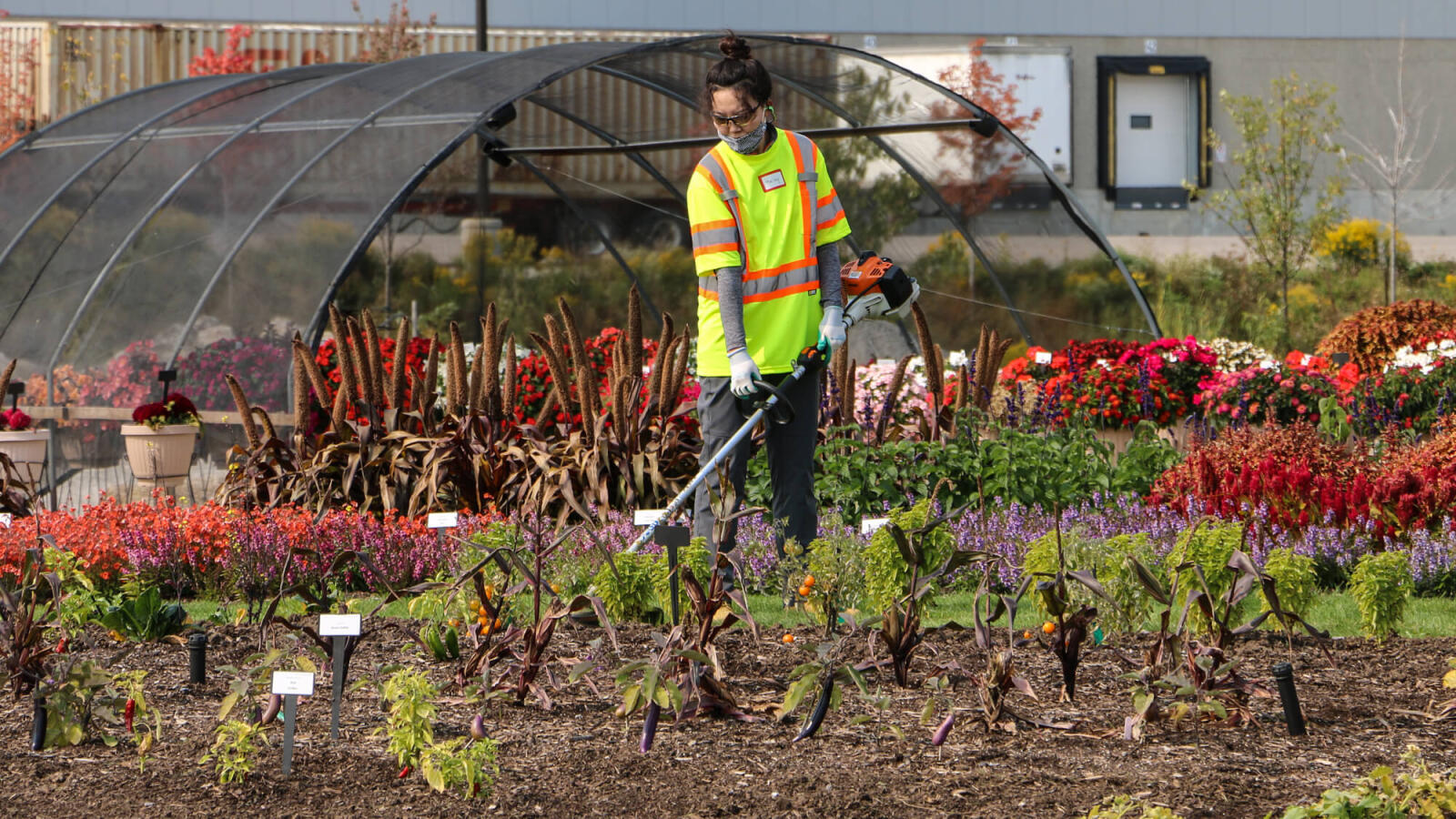 On the right path
Hailey Kim and her employer both benefit from new industry program
It didn't take long for Elissa Janca to recognize Hailey Kim's talent and enthusiasm.
"Just about from the minute I met Hailey, I knew she would be a great fit for our team," said Janca, a horticulture technician team lead with Yorkshire Garden Services.
They met in September, when Janca and Yorkshire's owner Lindsay Drake Nightingale visited Landscape Ontario's training facility to meet with the first cohort of GROW Program participants.
"I was so impressed by the GROW Program," Janca said. "They brought us in as potential employers and gave us a really comprehensive overview of what the students had been learning, and I was floored by how much they were able to pack into the four week program."
"I wish I could have 10 Hailey's on our team."
— Elissa Janca
After the orientation, employers had a chance to meet participants one on one.
"They made it so easy for us to meet the students, and interact in a safe way, even in a pandemic," Janca said. "Hailey and I walked through the trial gardens, and we talked about horticulture and plants. She was able to show me plants she had personally pruned. I just thought, this is so perfect. This is such a nice way to meet prospective employees."
Yorkshire Garden Services hired two new employees that afternoon, bringing Hailey and another GROW Program participant on board for the fall season.
It worked out well for the grounds maintenance company based in Toronto, Ont.
"I wish I could have 10 Hailey's on our team," Janca said.
The GROW Program "is designed to close the gap on in-demand jobs/talent requirements identified by employers," explained Sally Harvey, Landscape Ontario Director of Education and Workforce Development. "The program provides a four-week basic technical and employment skills training program, serving employers entry level workers who aspire to enter the landscape and horticulture profession."
Harvey added, "the program is intended to attract youth, newcomers, adults, women and provide training and employment opportunities to job seekers who may have experienced labour market challenges. Interested employers are invited to contact the program manager, Andrea Annis to learn more about the opportunity."
"I think one of the strengths of the program is that the participants are pre-screened," Drake Nightingale said. "They're not just coming in to just check it out. And once they're in the program, they get some really important basic skills like WHMIS and health and safety training."
Even more important than the technical skills, Drake Nightingale said, was the positive attitude participants showed. "They have this eagerness and attitude that is so upbeat and positive, that they just want to learn," she said. "They came in asking questions. They were gung-ho."
Drake Nightingale said the experience was positive with both GROW Program grads the company brought on board. They plan to participate with the program again in 2021.
For Hailey Kim, the GROW Program and working with Yorkshire Garden Services was a great career stepping stone.
Kim graduated with a Master of Forest Conservation from the University of Toronto in 2020, and is interested in pursuing a career where she can make a positive impact on the environment.
When she found out about the GROW Program, Kim thought it would be a good way to gain some hands-on experience and technical skills.
"It was a really good experience for me," Kim said. "It was exactly what I was looking for. Practical skills. I learned a lot about landscaping and horticulture, and I really enjoyed the hands-on aspects, including the planting, pruning, mulching, weeding and fertilizing."
While Kim plans to pursue a career in the forestry sector down the line, she is looking forward to returning to Yorkshire Garden Services in spring. She also decided to enroll in the Horticulture Technician Apprenticeship Program at Humber College, to continue adding to her skills and knowledge over the winter months.
For its part, Yorkshire Garden Services will be glad to welcome Kim in spring.
"I'm thrilled Hailey will be returning this year," Janca said. "I'm really excited to see where her career goes. But from my perspective, as long as Hailey wants to work with us, I am more than happy to have her."
What is the GROW program?

GROW stands for Get Ready for Opportunities at Work — a partnership between Landscape Ontario and SkillsAdvance Ontario (SAO), funded in part by the Government of Canada and the Government of Ontario.
The program offers three distinct programs designed to help employers within the landscape and horticulture profession to fill in-demand jobs and help workers pursue the many career paths available within the profession. The programs are currently offered in the Greater Toronto and Hamilton areas, and in the Kawartha/Muskoka region.
The New Entrant Training Program is designed to attract youth, newcomers, adults, women, etc., to the many career opportunities within the profession. Participants are given a four-week basic technical skills training and employment skills program, and then placed with employers in need of skilled workers for a two-week paid job placement.
The Incumbent Worker Training Program offers employers the opportunity to upgrade the skills of one to two existing employees who possess the potential of becoming a supervisor, but face barriers to achieve the position. The training is conducted virtually.
The Employers of Choice Program supports 50 employers within the three regions to help them learn how to effectively recruit and retain employees and improve engagement, productivity and retention.
For more information on how you can benefit from the GROW Program, contact Amanda Laszcz at
alaszcz@landscapeontario.com
or visit
growoutdoors.ca
.