December 18, 2015
Otto Muller




Born on the first of August 1934, Otto John Muller began his life in a tumultuous Hungary, reeling from the events of the Second World War.
Otto's first job in the horticultural industry was on the rose production farm owned by his father, Ferenc, and continued his employment until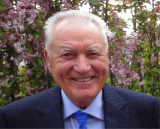 immigrating to Canada in 1956, following the Hungarian Revolution.

A gifted plantsman, Otto soon found work in the blossoming horticultural industry in Ottawa, and was soon humbled by the beautiful and charming Gabrielle Laderoute in a marriage that lasted 54 years. It was not long before their love bore their eldest daughter Elizabeth, followed by Katherine and their only son, John.

The family moved to Pickering, where Otto found work with Leslie L. Solty & Sons Limited as a landscape construction supervisor. Otto's pioneering spirit soon led to the opening of O.J. Muller Landscape Contractor in 1980; a business that continues in operation under the ownership of John with the assistance of his two sons.

Otto is remembered by his colleagues as an honest and creative businessman who demanded the very best of people by offering only his best in return. A grower of men and other tender things, Otto reminds us that it is not we who take care of the plants, but the plants that take care of us. He died peacefully, in his sleep, on the morning of May 14, 2015.

A visitation was held on May 21 at The Simple Alternative in Pickering. A memorial service was held on May 22 at The Simple Alternative.