April 15, 2011
Our association is about building community
Tony DiGiovanni CHT
LO Executive Director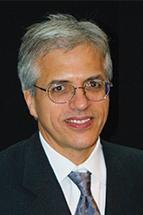 As the years go by, it becomes clear to me that Landscape Ontario is way more than an advocacy group for the horticulture industry. Yes, our job is to grow a prosperous, professional, ethical, recognized, valued and trusted industry. But, it is more about community, friendships, service, duty and contribution.
Associations are almost like churches. The huge motivation that energizes so many of you is not just about financial benefit. Instead, it is more about legacy. It is about making a positive difference. It is about expressing your passion and enthusiasm. It is about building community.
I am very fortunate to be in a position to witness and be inspired by this phenomenon almost every day. Here are a few examples from the Canada Blooms experience.
Mark Cullen is the volunteer marketing chair for Canada Blooms. When the budget was not enough, Mark used his own funds to purchase expensive advertisements.
Tim Kearney was the energizer behind the 9,000 sq. ft. Landscape Ontario garden. He and many others spent thousands of hours working together for a common goal of showcasing the talent, creativity, competency, professionalism and camaraderie of our industry. He composed the following words that were displayed at the entrance of the garden.
"Like a carefully crafted musical composition, a garden has all the elements needed to create a masterpiece.

"A dream, an idea, initial attempts, changes, and then finally, many rehearsals with more changes, leads to a dream becoming reality for all to enjoy.

"The Green for Life garden by members of Landscape Ontario Horticultural Trades Association is a choreographed culmination of hundreds of volunteers and dozens of companies from across Ontario. All led by composer Haig Seferian and the Seferian Design Group and carefully orchestrated by Maestro Tony Lombardi of Dr. Landscape.

"On the surface you enjoy all the wonderful elements that sing to you in harmony but knowing the efforts of many and the desire to please make the meaning more relevant."
I tried to add his name to the sign. He vehemently refused, insisting that his reward was in the collaboration and community
building.
The contributions of so many others were heroic. Members endured the dust, diesel, long hours and hard work to reap the inherent rewards of working together for a common goal.
There are so many people to thank. They are mentioned elsewhere in the magazine, but special recognition must go to the team leaders: James Garfield Thompson; Paul Doornbos CLP, CLT; Barry Hordyk; Richard Kuizenga; Chris Power; Reid Snow; Dean McLellan; Bob Tubby CLP; Karl Hastings; Steve Macartney CIT, CLT; Bruce Morton CLP, CIT; Gord Sherwood; Lindsay Drake Nightingale; Fabiola Prins; Ryan Heath CLP, CLT; Brian Marsh; Kevin Foster; David Turnbull CHTR (and family); Paul Degroot; Beth Edney CLD;, Mark, Case, Rick and Brent Vanderkruk; Nick Torenvliet (and the Environmental Design Team); Paul Offierski; Mark Vandenbussche and many others who deserve a great deal of recognition. Please forgive me if I missed you. Your contribution ethic is contagious and inspiring.
The Canada Blooms experience is one example of what LO president Tom Intven calls the Landscape Ontario Gene. Tom is another one of those role models who is infecting our industry with goodwill. Our amazing staff members are also infected. They all go beyond expectations.
Landscape Ontario is one of the most vibrant and active horticultural associations in the world. It is easy to see why. We are very fortunate to have hundreds of members who are infected with the desire to make a positive difference.
---
Tony DiGiovanni may be reached at
tonydigiovanni@landscapeontario.com
.