October 15, 2011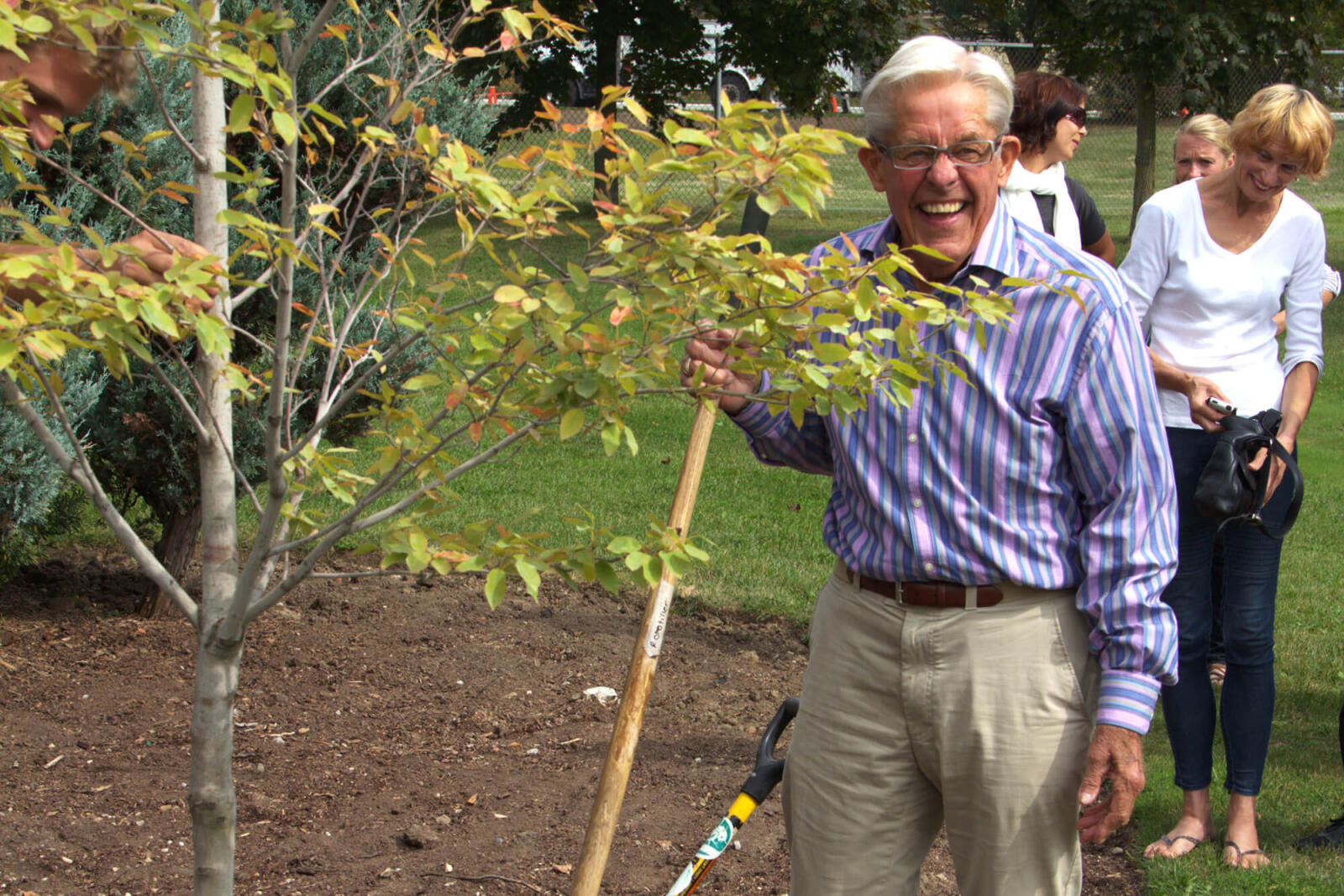 Over 150 trees planted on the first National Tree Day
Canada's landscape horticulture industry enthusiastically embraced National Tree Day on Sept. 21.
With over 90 Canadian companies planting over 150 trees, LO members made up over one-third of that total.
The day became official when parliament passed a private member's bill introduced by MP Royal Gallipeau. Following the federal government's proclamation of National Tree Day, Landscape Ontario and Canadian Nursery Landscape Association (CNLA) began work to help members celebrate the day on Sept. 21. A partnership was formed with Tree Canada to co-promote events.
In many cases, members had the opportunity to teach students how to plant and care for a tree and help them understand the environmental benefits that trees offer.
"For many students, it was their first exposure to seeing a tree being planted," said Joe Salemi, CNLA member services manager, who coordinated the national program. "This was especially the case at Bennetto Public School in Hamilton. The school is located in the city's north end and considered a high risk school. Clintar Landscape Management Hamilton chose this school specifically because they knew that very few community groups have reached out to the school to help out. Rod Pring of Clintar Landscape Management Hamilton brought a very enthusiastic crew who took time explaining the steps of planting the ornamental pear tree. They explained that it needs special care and that it would grow as they grow and that the students present would be the special caretakers for the tree. For the majority of the students present, it was indeed their first exposure to the landscape horticulture industry with many asking very
interesting questions."
Organizers say that next year it is expected that over 1,000 trees will be donated and planted on National Tree Day. "It was the cohesive partnership between Landscape Ontario, the other provincial landscape horticulture industry associations, and CNLA that kept the momentum going for this initiative. Thank you to everyone involved from the planning and development stages to the dedicated members who took time out of their day to give back to the community. This is the embodiment of being Green for Life," said Salemi.
Participating Landscape Ontario members include: Arcadia Landscaping, Toronto; Baseline Nurseries and Garden Centre, London; Beyond Landscaping, Toronto; Clintar Landscape Management – Barrie, Brampton, Hamilton, London, Mississauga, Oakville, Ottawa, Toronto, Vaughan; Degroot's Nursery, Sarnia; Down to Earth Landscaping, Dundas; Enviroscape, Glencairn; Fast Forest, Kitchener; Garlatti Landscaping, LaSalle; Ground Guys – Orangeville and Aurora; Hank Deenen Landscaping, Toronto; Islington Nursery, Toronto; Kingston Nurseries and Garden Centre, Harrowsmith; Lee's Landscaping, Minesing; Lisa Purves Garden Design and Consultation, Brighton; Neighbourhood Landscaping, Etobicoke; Nisco National Leasing, Burlington; OGS Landscape Services, Brooklin; Sheridan Nurseries – Unionville, Georgetown, Kitchener, Markham, Mississauga, North York; Taylor Nursery, Milton; TNT Property Maintenance, Kitchener and Vanderley Landscape Services, Denfield.