January 15, 2010
Past president thanks members for support and advice
By Bob Adams
LO president, 2008-2009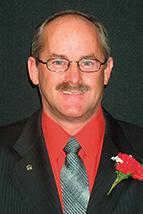 Happy New Year to all. I am looking forward to my new position as your past president. Thank you for your support and advice over the past two years. It has been my privilege and honour to serve you.
The countdown to spring began a couple of weeks ago. I begin counting on Boxing Day, so it's approximately 80 days until we can clean off the rust (off us, not the tools) and start a fresh season of being green for life. I know we never really stop, not even at Congress, but for me counting the days until spring is a way to get through the winter.
There is still much to do and time to get it done. Our winter seminars will be running for three more months, offering a wide selection of topics. Check the website and register now to avoid disappointment.
For many of us, this is a time of year to contact our customers for renewal, or re-connect with past acquaintances. You never know who might present your next job. It is also a good time to send a couple of tickets for Canada Blooms to those special clients on your list.
We need to make time to be involved in Prosperity Partners. Whether you take the Introductory or Best Practices session, you are sure to come away with a better understanding of good business practices. These seminars are always time well spent.
Remember to be green for life in everything you do. If we put the GFL logos on our advertising, trucks, equipment, stationery and invoices, we can have tens of thousands of impressions. I encourage everyone to use the GFL logo everywhere possible. I look forward to hearing Joe Public say, "Look at the Green for Life sticker, it must be another Landscape Ontario company." The strength of Landscape Ontario is in your hands. Together, let's see how high we can lift.
---
Robert Adams may be reached by email at robertadams@landscapeontario.com.