June 15, 2020
Positive aspects of the global pandemic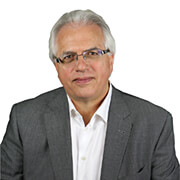 Recently, I was sent an article that outlines the global risks associated with the coronavirus pandemic. It was based on the outlook and perspectives of the world's top risk professionals.
Economic risks are the most pronounced. There is a fear that the world will enter into a long period of recession.
Widespread bankruptcy, industry consolidation, failure of industries to recover and a disruption of supply chains were identified as likely scenarios. How does this perspective relate to the landscape professions? Why should we care?
The main reason we should care is that the world is interconnected. We are not immune to economic cycles. We should be as proactive as possible in order to prepare ourselves — just in case these scenarios play out. We should always be aware of the risks and find the opportunities within the crisis. We should be thinking about new ways to do things. It is important to remind ourselves the moments that define us are those that challenge us. This is an adventure. There are positive aspects to bad times. It reminds us that although there are many things we cannot control, we have the ability and freedom to choose our attitude and our response. It is grounding to know that we are the masters of our own choices.
I often reflect on this profound, life-changing fact. I clearly remember the epiphany I had as a young teenager sitting outside the library at Humber College, wondering if I should drop out of school. Had I made the right career choice? What on Earth was landscaping anyway? Could I make a living at it? Emotionally, I felt unsettled, as if I was being tossed about by waves, until finally, I understood I had the freedom to choose my attitude. I chose to do well, no matter what. I chose to do the best I could. It made all the difference.
COVID has quickly and seriously affected just about everything. From one week to the next, things became entirely different. Reality shifted in a moment. This paralyzed many of us. It stimulated a great deal of fear and uneasiness. It brought out the worst in some and brought out the best in many. It has energized, stimulated, challenged, forced change and created many opportunities. It also revealed the importance of social networks. We are not meant to be alone. COVID forced us to acknowledge our interdependence. In an odd way, it unified us.
From an association perspective, it magnified our relevance. Our core purpose is to be a trusted place where members can gather to help one another. We are a community for mutual benefit and improvement. Community building has never been more necessary.
It has illuminated the importance and potential of technology, especially in communicating broadly. It has taught us that education can be very accessible (We delivered 24 webinars in 32 days, with over 4,500 participants).
COVID has highlighted the importance of caring for each other. It has made life and relationships more real. It has brought us all together in a way that only shared experience and adversity can. COVID has shown us the importance of collaboration and relationships.
Heather MacRae, LO's director of trade shows and events, recently shared a video that her son received from the teachers, administrators and custodial staff at his school. It was full of hope, encouragement and care. I thought I would share some of the quotes. They are just as relevant, meaningful and uplifting to school children as to hardened adults like us. It is a good thing to plant hope — especially in our profession.
"When it rains, look for rainbows. When it is dark, look for stars.
"Fear does not stop death, it stops life."
"Worrying does not take away tomorrow's troubles, it takes away today's peace."
"Where there is light, there is hope."
"Be hopeful, be strong, be resilient."
"Hope is passion for the possible."
"A pessimist sees difficulty in every opportunity — an optimist sees opportunity in every difficulty."
— Winston Churchill
May we remain optimistic in the face of all challenges. Your staff at Landscape Ontario wishes you a wonderful season.
---