September 15, 2017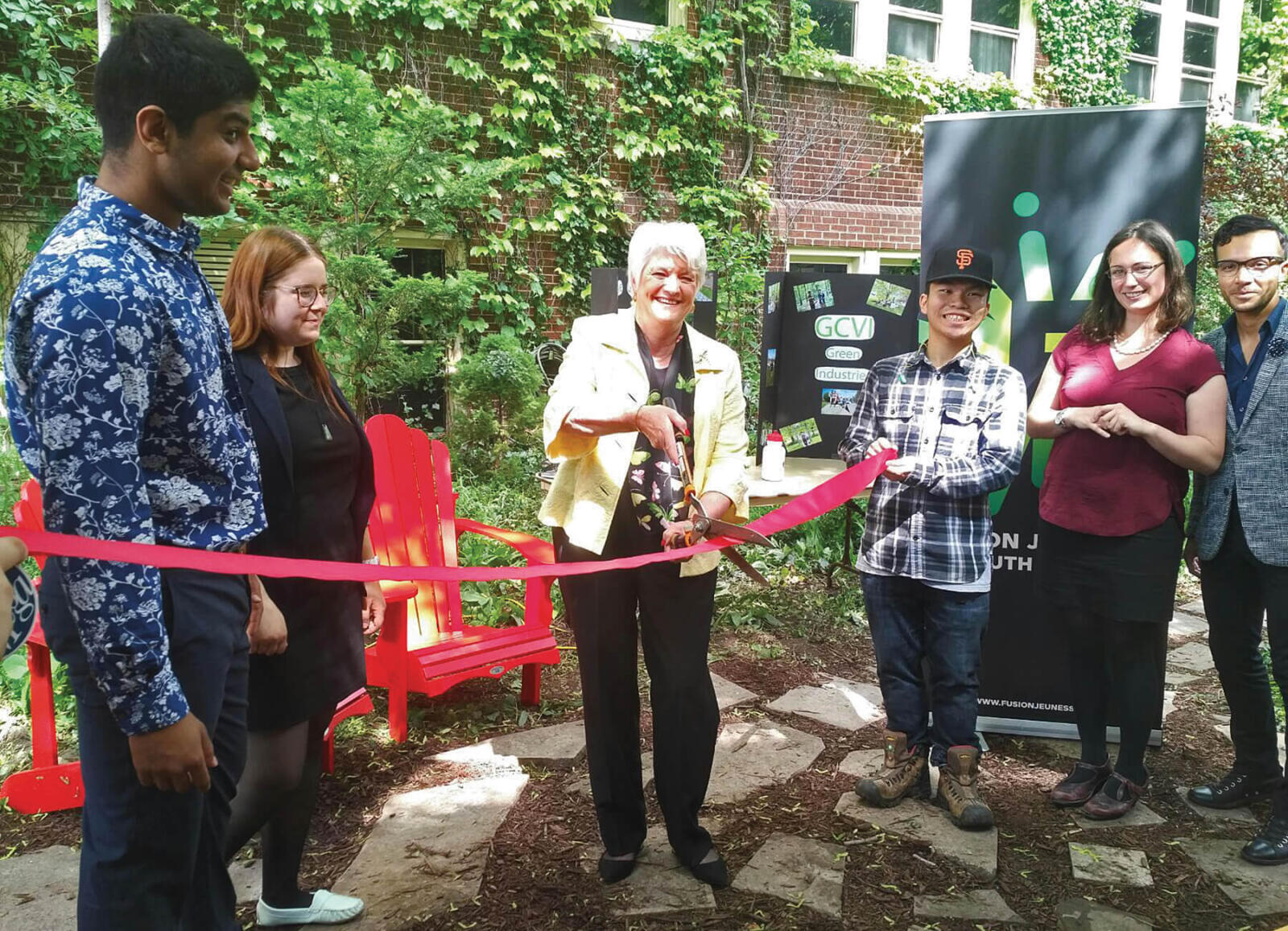 Program helps students to build new outdoor garden
After four months of hard work, 15 students engaged in an experiential learning opportunity and held a ribbon cutting ceremony in Guelph, Ont., on June 9, to celebrate the completion of their environmental design initiative. Offered through Youth Fusion, the students, supported by their teacher Mr. Chaves, and a Youth Fusion coordinator, Laura Armstrong hired from Guelph University, worked countless hours a week to transform an unused outdoor space into a beautiful Japanese Garden. Students handled everything from tree planting to landscaping and were mentored throughout the process by Armstrong, as well as local Landscape Architect, Paul Brydges, who currently serves as president of Landscape Ontario.

Youth Fusion's Founder and President, Gabriel Bran Lopez notes, "It's remarkable what these students have been able to accomplish since our launch in February. The passion demonstrated throughout this process is clearly reflected in the quality of their work. We are very proud that our model allows for students to feel engaged in their own learning, discover career paths and pursue their passions."

The Honourable Liz Sandals, MPP for Guelph attended the event commented, "Congratulations to all of the students involved, the local teachers who guided them through this process, and Youth Fusion who delivered the experiential project. I had the opportunity to speak directly with the students involved and they had a tremendous sense of pride in having completed their Japanese Garden. As a graduate of [Guelph Collegiate Vocational Institute] GCVI, I am glad to see students fully engaged and reflecting about the future of their community."

Brydges also has a connection with GCVI — his son began attending the school last year and Brydges was already volunteering at the school to assist with an environmental design class.

Brydges brought some real world lessons to the project on things like budget, scheduling and elements of the students' design that were most practical to implement. Brydges said he had "a lot of fun" working with the students at both GCVI and at another school in Fergus, Ont.

"It really excited me to see a lot of students now are more interested in the environment and who really want to make a difference with what they so," Brydges said. "At the end of it, the students were really happy; that way my primary goal."

Youth Fusion is an award-winning charity dedicated to lowering school dropout rates. By creating ties between the schools and the community, at-risk students are involved in innovative and meaningful educational projects that foster learning, develop skills and social integration. The organization hires post-secondary students and recent graduates as project coordinators, to implement projects that engage youth in learning both inside and outside the classroom. Project coordinators gain valuable practical experience to complement their studies and discover new career-related interests. Youth Fusion has over 10 different project areas: robotics, environmental design, music, cinema, healthy living, leadership, digital and visual arts, fashion design, entrepreneurship, video game creation, and science and technology, among others.