September 15, 2011
Promoting your company and the industry at the same time
Tony DiGiovanni CHT
LO Executive Director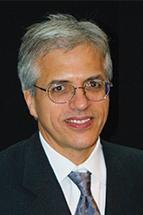 One of the jobs of Landscape Ontario is to promote the economic, environmental, social, therapeutic, aesthetic, recreational and legacy benefits of plants, gardens, landscapes and green infrastructure.
Our industry and our members provide so much public benefit that it is sometimes difficult to focus and communicate. However, it is important to understand that the association is simply a symbol of the collective membership. The association is really a collection of individuals. Therefore, by extension, the job of individual members is to also promote the societal benefits of our occupation. Here are some tools to help you (and us) tell our amazing story to the public.
landscapeontario.com and Green for Life logo
The logo is designed to identify you as a professional who enhances the quality of life for your customers through your greening activity. I am still surprised how many members don't use our logo as a co-brand. It will help you communicate your benefits. It will also help the industry communicate our collective benefit. Please use it. Put the decal on your trucks, equipment, office, website, business cards, and any other place that the public can see it. Call Jane at 1-800-265-5656 to order your material. There is no cost.
Canada Blooms
There is no better way to communicate the benefits of our industry and the creativity and competency of our individual members than by building a garden at Canada Blooms. This year we are co-locating with the National Home Show, making it the largest indoor event in North America. Canada Blooms is designed to showcase the very best in horticulture, landscaping and garden making. You can spend thousands of dollars paying for advertising space and your message will only last a short time. Or, you can build a garden at Canada Blooms and create an emotional impression that will last a lifetime. The best part is that free space and thousands of dollars of support are available for a select group of landscape professionals. Are you interested in space? Give me a call at 1-800-265 5656, ext. 304. Do it soon, as space is limited.
National Tree Day
For the very first time, Canada has an official National Tree Day — Sept. 21. MPP Royal Galipeau, Member of Parliament from the Ottawa area, managed to get a Private Member's Bill passed (during a minority government). Take advantage of this day. Encourage your clients to plant a tree to commemorate National Tree Day. Make an appointment with your local school and arrange to plant a tree. This day is tailor-made for our industry. The website for National Tree Day is
http://bit.ly/oQzcrZ
.
Go to
www.canadanursery.com/nationaltreeday
for a complete kit designed to help you make the most of the day.
Smart about Salt
The Smart about Salt Accreditation Program (
www.smartaboutsalt.com
) is gaining momentum and acceptance by municipalities, building owners and managers. Our endorsed insurance program also offers a premium discount to Smart about Salt-accredited contractors. The program communicates your professionalism and knowledge about snow operations. It also reflects your stewardship ethic. Some municipalities will be making it mandatory for all snow management contractors to become Smart about Salt accredited.
These four programs can set you apart. They can give you a competitive edge. I urge you to participate.
Let's promote our great industry together.
---
Tony DiGiovanni may be reached at
tonydigiovanni@landscapeontario.com
.