August 15, 2013
Proper training improves bottom line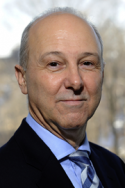 By Phil Charal
LO president
We all want to train our employees to properly carry out their jobs in a professional and efficient manner, while representing our companies with a positive image.
The On the Job Training (OJT) program through Landscape Ontario teaches quality and efficiency. It reminds me of what our firm experienced back in the financial depression from 1990 to 1995. They were terrible years. Our firm went from a staff of 30 to less than 10.
In order to make any money on construction projects, we had to manage our projects perfectly. In those days, some staff members were flown in from out of province. We had good people with great work ethic. But it was difficult to train them to do quality, detailed work.
Brian, my project manager, tells a great story about how we managed to survive this period of incredible uncertainty. "I had to work these guys hard, and they were some of the best workers I have ever worked with. At one point in the early summer, they asked for more money. The last thing we wanted was to lose them, so I told them that if they wanted a raise, they needed to finish the project ahead of the projected time. I said that in order to do this we needed to work efficiently and independently. In order to work well independently, you must understand how to quickly produce quality work. I taught them how to grade, chisel, work stone, prepare gardens and plant material. I also told them it was important to do it my way. Once they understood, we had fun and the satisfaction of building quality projects within our allotted timelines."
Not only did our crews consistently bring in projects under estimated timelines, we actually managed to make a profit during the most depressed landscape market I have ever experienced.
There is a difference between training and learning. You can never expect employees to efficiently complete a task because he or she has been shown how to do it. They must know why it has to be done the way they were taught.
I have seen this happen time and again. A foreman shows an employee how to fulfill a task, and then expects it to be done well from that point on. We all have good intentions, but being a seasonal business means we must work very efficiently during a short period of time.
The truth is that if you train someone using the methods taught in the OJT program, you will end up with a valued employee and have more time to fulfill your other important tasks.
There is nothing new about the basic concept of OJT. With labour being the green industry's largest expense, workers taught to work efficiently will dramatically impact a company's bottom line. CNLA worked with the Canadian Agricultural Human Resource Council (CAHRC) to develop a method to teach people how to teach.
OJT uses a method created to train factory workers during the Second World War. The war time program was called Training Within Industry (TWI). It had to fill critical production jobs vacated by soldiers. The new workers had to learn their trade quickly and safely. After the war, the training method was adopted by the Japanese. Toyota still uses it.
The ongoing goal is to now establish a network of master trainers who will offer this proven method in every province.
If you adopt this program, I guarantee your production will improve. I have to say when we began the program, I was concerned about the time commitment. I came to realize that in the long-term, it is well worth the effort. Watch for the dates and times of OJT seminars this fall.