October 18, 2016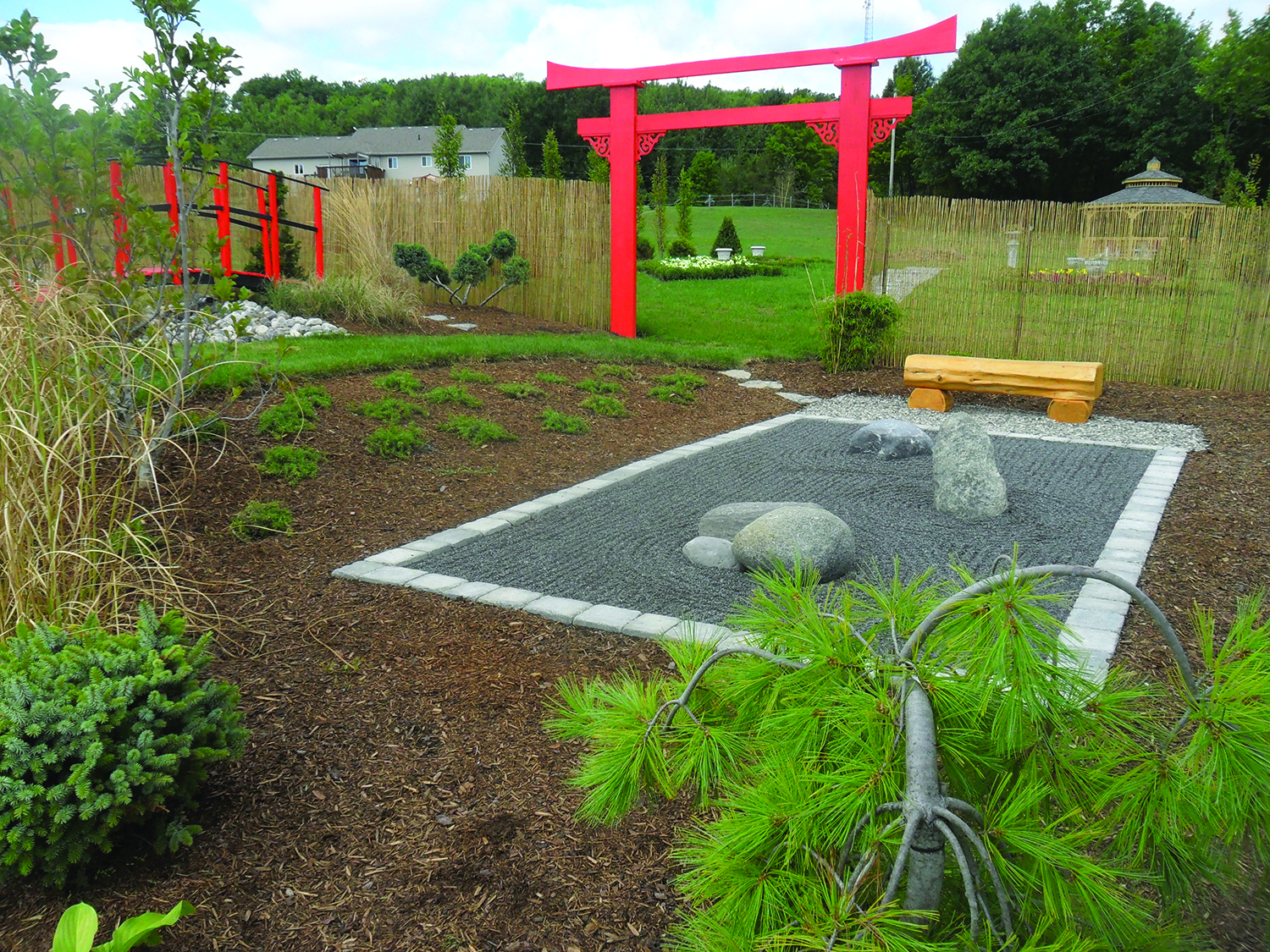 Quinte Botanical Gardens breaks ground
An official ground-breaking ceremony was held on Aug. 31, 2016 in Frankfort, Ont., at the site of the Quinte Botanical Gardens (QBC).
The six acre site will feature a collection of 28 individually-designed gardens, each with its own unique theme helping to promote the many health benefits of plants and gardens while also inspiring and educating garden enthusiasts about the latest plants, products and practices in use by the landscape professions.
Located north of Trenton, Ont., the QBC is expected to be a major tourist destination along the busy Highway 401 corridor between Toronto and Montreal. The project is the brainchild and passion of Deanna Groves and John Riedl, owners of The Garden Place Landscape Design and Installation, located in Frankfort.
Almost a decade in the making
The idea of a botanical garden to inspire and educate garden lovers is something Groves and Riedl have been working on for nearly a decade. About nine years ago, Groves decided to leave her field of accounting and earned a certificate in landscape design at the University of Guelph. In order to properly build the botanical gardens they envisioned, both Groves and Riedl knew they first needed to learn everything possible about the landscaping and horticulture fields.
"We knew we had to walk the walk before we could talk the talk," Groves says, so the couple started their landscape design-build firm.
Groves says working with clients and attending home and garden shows, as well as Congress has helped her to solidify some suspicions about the gardening public and verify market research she has been conducting about garden tourism.
Groves found a majority of their clients were seniors who still felt the only way to truly enjoy their gardens was by spending countless hours getting it into tip-top shape. Groves feels strongly that with proper design and the plants, products and technology available today, homeowners can spend more time enjoying than working.
"There are lots of products people don't know about," Groves says, "and if you design and landscape your garden properly, you can keep the work to a minimum and have more time to enjoy it."
Groves plans to teach visitors to the QBC about new plants, products and design techniques through education sessions held by the contractors, retailers and suppliers in the green professions. Groves extends an open invitation to all companies, organizations and groups to demonstrate products or services at the QBC free of charge, to futher her mission of educating and inspiring the masses.
Connon Nurseries/CBV Holdings in Trenton plans to lead an event to showcase low maintenance plants and Aquascape has sponsored a water oasis garden that will allow visitors to learn about and experience the latest in pond construction.

Designing the gardens
Groves has spent countless hours over the past nine winters meticulously designing the 28 gardens that will make up the QBC. Each will have its own theme and educational component. One garden will illustrate the importance of plants in areas such as medicine and food production, and harvest from an edibles garden will support a local food bank. Groves is particularly excited about one garden she believes is the first of its kind anywhere in the world. To showcase the power of colour, Groves has designed a 150 foot diameter colourwheel garden that will be divided into eight different coloured slices, separated by hedges. Visitors will be able to pass through each of the different coloured slices via an arbour. Each section will be a sea of colour from April through to November.
"The challenge was to find plant material that would be in bloom at one time or another and place it properly so the wheel is in full colour all season long," said Groves.
In close proximity to CFB Trenton, Groves has also planned a memorial garden to honour Canada's military. She is excited about the possibility of providing a place of healing for Canadian soldiers who have suffered traumatic experiences by serving their country and already has calls from eager volunteers who want to "just come and plant all day long."
A much needed travel destination
The QBG will be listed on Canada's Garden Route, as well as with many municipalities and tourist boards across the country. Groves says in her years of research she found many visitors see botanical gardens as a travel destination to escape both busy city life and sprawling suburban surroundings, which made Frankfort the ideal choice.
Groves is already brimming with joy at the thought of visitors arriving so she can inspire them on the many benefits of what the green industry has to offer. The QBC is expected to open in spring 2017.
More information about the gardens can be found at
thegardenplace.ca
.