July 15, 2009
Random thoughts on association life
Tony DiGiovanni CHT
LO Executive Director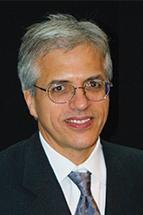 We are a fortunate association, or should I say we are a fortunate community. Sometimes the analogy of a church is appropriate. Contributions of time, resources, ideas and goodwill are enormous. I am constantly inspired by our members' willingness to coach and nurture each other. I have often described the association as a club for mutual benefit and improvement. This is the essence of why the association exists. However, it goes beyond mutual benefit and improvement.
One of the highest levels of contribution is doing something that will provide benefit to others, even when there is no direct benefit (like the act of planting a tree). Many members, who take the time to encourage high school students, provide scholarships, promote youth apprenticeship programs, become involved in community-building projects, etc., go beyond mutual benefit and improvement into the realm of life enhancement and legacy. The Landscape Ontario membership is full of life-enhancers. This is why after 20 years of working for Landscape Ontario, it still feels fresh for me.
Random thoughts about communication
Manager of education and training Sally Harvey and membership events coordinator Kristen McIntyre are taking an association management course. This is prompting some observation and contemplation of Landscape Ontario's mission, culture and processes. Sally asked me the other day if I thought our staff and members could recite the vision statement of Landscape Ontario. Would they be able to describe our priorities for the year? In my mind, I am constantly repeating and communicating the vision and priorities, even to the point where I am starting to think I am annoying. However, when I tested the assumption by asking a few staff members what the priorities of the association were, I was a little surprised they struggled with the question. So I am going to take the time to repeat our purpose.
The purpose of Landscape Ontario
We have already described the association as a community for mutual benefit and improvement and for enhancing lives. Let's get more specific.
From a member's perspective, our job can be summarized in five adjectives: We exist to grow a prosperous, professional, ethical, recognized and trusted industry. Everything we do, relates to these five words. It really is that simple.
From a public perspective, our job is to raise awareness for the Green for Life benefits of our occupation (economic, aesthetic, pride, therapeutic, environmental, life enhancement, spiritual, recreational benefits) and to promote our members as trusted professionals who have high standards of competency and character. It is no more complicated than this.
Priorities and themes for the year
Professional Development (Using the Prosperity Partnership template).
Public Awareness (Using our members' millions of points of contact to communicate a collective Green for Life benefit).
Chapter Development (Working to ensure that programs and influence are enhanced in local areas).
Thanks are due
Thank you to Warren Patterson for chairing the new membership recruitment committee. Warren put together a great planning template to guide his committee to reach out and bring more members into Landscape Ontario.
Thank you to the many suppliers and members who assisted in building our new trial gardens and installing state-of-the-art irrigation systems to keep them watered. Lorne Haveruk coordinated the many donations. All of the companies are listed in the article in this issue.
Thank you to Leon Denbok and Terry Murphy for their tireless effort to visit every municipal councillor, mayor and planning staff member in Halton to ensure they are aware of the importance of horticultural businesses to the community concerning the landscape business zoning initiative.
Thanks to Frans Peters and Humber Nurseries for the unsolicited contributions of annuals and hanging baskets for the LO site. Humber also donated plants to the Canadian Cancer Society's Relay for Life in Milton.
Thanks to Landscape Ontario's Green for Life walk for cancer relay team. Rachel Burt, Robert Ellidge, Lorraine Ivanoff and Stephanie Smith made us proud.
Thank you to Peter Guinane, Gerald Boot, Jeff Olsen, Mark Cullen and Gerry Ginsberg for providing guidance to Canada Blooms, as they move into their exciting new home at the Direct Energy Centre at the CNE.
Thanks to Tim Kearney for tireless energy and ideas in promoting Landscape Ontario. Tim will be investigating the concept of an "Accredited Company."
I could fill these pages with many other names who deserve a thank you. I know I have missed a number of names. And, because there are so many, we truly are a blessed community.
Have a great season.
---
Tony DiGiovanni may be reached at
tonydigiovanni@landscapeontario.com
.