September 3, 2019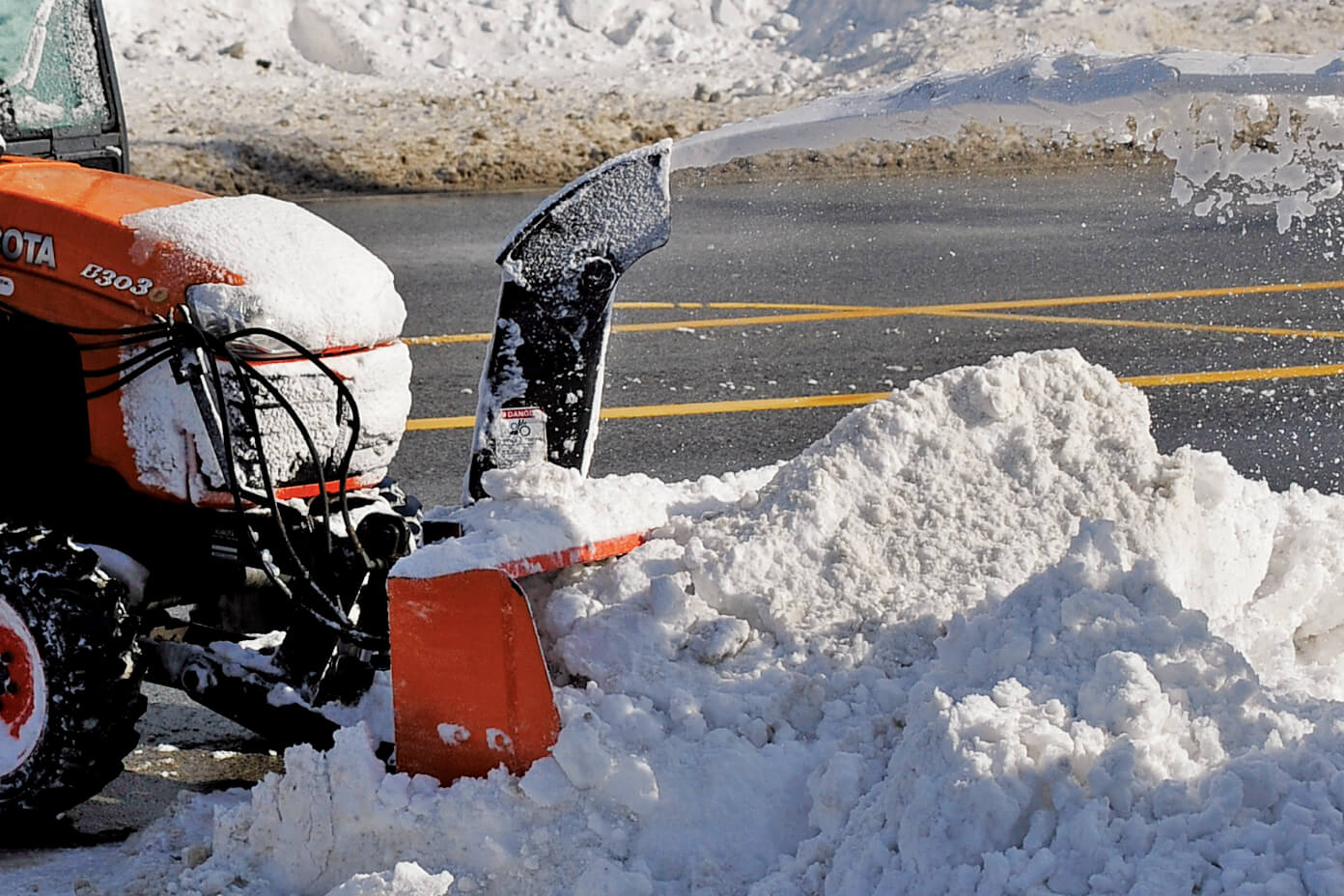 Reduce snow and ice liability this season
BY MARK BRADLEY
Success in snow and ice is typically survival of the fittest. In an industry where one slip and fall claim can bankrupt a business, and insurance coverage is often unavailable or unaffordable, today's operators have to use every tool at their disposal in order to stay in business. Snow and ice can be lucrative if you take the right steps to reduce your liability. To succeed in snow, smart owners need to adhere to industry standards, understand contract law and document just about everything.
Justice is coming
Kevin Gilbride is a familiar name in the snow and ice industry. He has been a vocal advocate on behalf of snow and ice business
owners in the U.S. for changes to laws that make it nearly impossible to run profitable businesses. As the Executive Director of the Accredited Snow Contractors Association (ASCA), he actively lobbies each state to pass the Snow Removal Liability Limitations Act.
This legislation makes it illegal for property owners to pass all liability for accidents resulting from snow and ice onto contractors — a huge step forward for the industry. Connecticut, Illinois and Colorado have already passed the legislation and more states are expected to follow. The impact of the ASCA's work is being felt in Canada and the lessons learned can be applied across borders to dramatically reduce liability.
You have standards
"The ASCA established the first ever industry standard for the snow and ice industry, and it's the foundation for effective risk management in both the U.S. and Canada," said Gilbride. "In fact, the Canadian court system has recognized ASCA standards in litigation cases."
ASCA standards outline all the policies and procedures snow and ice contractors must meet in order to run risk-averse businesses. Holding an ASCA certification significantly increases a company's chance of successfully defending itself in a case. According to the ASCA's data, 70 per cent of claims against ASCA-certified companies are dismissed.
While adhering to these standards can keep you out of the courtroom, they are designed to improve the industry as a whole.Ensuring your business implements and abides by the ASCA standards reduces the potential for accidents and promotes workplace safety. As a result, you will also attract better clients who are looking — and paying premium fees — for certified service providers.
Devil in the details
In a highly competitive and risky industry, some contractors take work when they can get it, even if it means putting their business at risk. They quote too low and sign bad contracts from property owners just to land commercial jobs.
Even in states that have already passed the Act, it is important for all business owners to read contracts over carefully to understand both their liability and the scope of work. Avoid contracts that pass on 100 per cent liability (through a hold harmless and/or an indemnity clause) to the contractor in the event of an accident. They are the reason most snow and ice businesses shut their doors, and the reason many landscape businesses refuse to take on this work in winter months.
"Top contractors won't sign these contracts and will simply walk away from the work," said Gilbride. "Even these smart contractors can get into trouble when they don't pay attention to the scope of work section of the contract."
In cases where the scope of work states, for example, 'You will commence plowing only when there are three inches of snow on the ground and only salt when directed to do so,' a contractor can still be liable if someone slips and falls at 1.5 inches with no salt, depending on how the contract is worded.
It pays to know the laws specific to your province. Call your local association or reference their website for updates on legislation. When in doubt, run the contract past a lawyer before potentially signing your business away.
Leave a paper trail
Or better yet, leave a digital trail. Unless an owner can prove his plow operator salted at 2 a.m., it didn't happen. Unfortunately, too many business owners don't keep accurate records of everything happening in their business, and this lack of documentation results in lost liability cases.
From the time Steve clocks in for his shift, to the amount of salt he put down at each job site, to his precise location at 2 a.m. on Dec. 15, every activity should be accounted for. Paper logs and timesheets are certainly better than nothing, but they can easily be lost, inaccurate, incomplete or altered.
"Using business management software will centralize all the information you need to protect yourself, your company, your clients and your insurance carrier from costly litigation," said Gilbride. "The best defense is evidence and that's the reason disputes don't make it to court, are dismissed altogether, or are judged in favour of the contractor."
Investment in software that has features like time tracking, GPS verification and photo collection capabilities will pay for itself in the event you are faced with a lawsuit. The ability to provide accurate records and service updates also improves the customer experience and increases your chances for repeat business next season.
Change is happening
"We all have a shared responsibility to educate our local government, the insurance industry, clients and the general public on the snow and ice business," said Gilbride. "Changes in legislation are already having a positive impact on everyone, from lower insurance premiums to a safer society."
According to the ASCA, insurance rates in Illinois are down 25 per cent after two seasons of the Snow Removal Liability Limitations Act. In states with shared liability legislation in effect, property owners are now beginning to insist on ASCA certification which is resulting in more quality contractors and safer conditions for everyone. Case in point: an ASCA member reported that slip and falls for one of its customer's store locations were down from 21 in the 2017/2018 season to zero this past season.
"It won't be long before our Canadian members see similar laws enacted to better protect their businesses and revitalize the industry," said Gilbride. "In the meantime, it's important for snow and ice businesses to understand the full scope of steps they need to take daily to reduce liability."
---
Mark Bradley is the CEO of LMN Software, and former CEO of TBG Environmental, both based in Ontario.