February 15, 2009
Remain focused on business for today and tomorrow
By Sally Harvey CLT, CLP
Education and Labour Development Department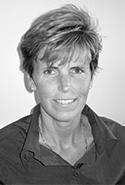 Congress 2009. What a success! I walked out of the doors on Thursday afternoon, thinking, Wow! what an awesome opportunity we have being members of this Green Industry.

The sensational media stories of doom and gloom were not evident on the floors of the Toronto Congress Centre's exhibition area, nor in the conference rooms. In fact, I was so busy during the show, that for those three days I was able to avoid the media's bad news. It was a breath of fresh air! I urge us all to remain fact- and customer-focused going forward.

I am sure that we all will be touched in some way or another by this challenging economy. Next steps will include asking ourselves what we will do to position our companies to survive these challenges. How will we remain optimistic, focused on the positive and the business of today and tomorrow?

Two pieces of the puzzle are critical for those of us in business. We must carefully listen to the voice of our client in order to develop our plan of approach and revise our strategy. And, accordingly, we must develop our team to adapt to the changing climate. We must differentiate ourselves from competitors. Many of us have heard this before, but most of us fail to do it.

How do we achieve this? One of the key questions that we must ask ourselves is how we create the right fit for our target clients. What do they want and need from us today and tomorrow? How can we maintain regular and focused contact with them to ensure we continue to understand the pulse of what they value? We, in return, must be solutions-based and deliver on our promises to keep these customers. If they are right-fit clients, we must meet their expectations. Provide them with options, create value, inundate them with memorable client service experiences that are important to them, and earn their loyalty. This will help us weather these times, and provide us a stable foundation for future.

How do we get this information? We do it through regular client contact. It may include a newsletter, a telephone call, and/or regular meetings, depending on the size of your client base and resources. The point is to create an open line of communication on a regular basis.

These client-service provider relationships are important and we must research ways to build on them. If we understand what our customer's stance is on the present environment, and what his plan of attack looks like, then we will understand what opportunities lie ahead, and understand why he buys from us. When customers see that we do respond to their feedback, we will soon have a solid base of loyal customers for life. This is indeed your investment in your future.

For residential contractors, the new buzzword is 'staycation,' which according to the Urban Dictionary is: A vacation that is spent at one's home enjoying all that one's home environs has to offer. What an opportunity for us in the green industry! We must promote and enable this, providing this demographic with the products and services they envision to create their dream indoor and outdoor GREEN spaces.

We, too, must do our part to stimulate the economy. Continue to build your company according to the plan. Make those purchases that were budgeted to better serve your target market. Continue to strive towards maintaining professional vehicles, equipment and staff. As we all update our 2009 strategic plans, we must remain informed on the operations of our company and performance indicators, and those of our clients. We must avoid the negative media, and instead focus on the fantastic opportunity that we have as healthy members of the green industry. This winter, I urge you to continue the journey of developing your company technically and professionally. Learn to work in and on your business, through enrolling you and your team in any of the Professional Development Guide programs.

"The pessimist sees only the tunnel; the optimist sees the light at the end of the tunnel; the realist sees the tunnel and the light — and the next tunnel." — Sydney J. Harris.

As entrepreneurs, I think most of us fall under the realist category. Let's get out there and make opportunity happen! Our passion for this industry is contagious, taking action is energizing! Let's do it!

---
Sally Harvey may be reached by email at
sharvey@landscapeontario.com