September 5, 2023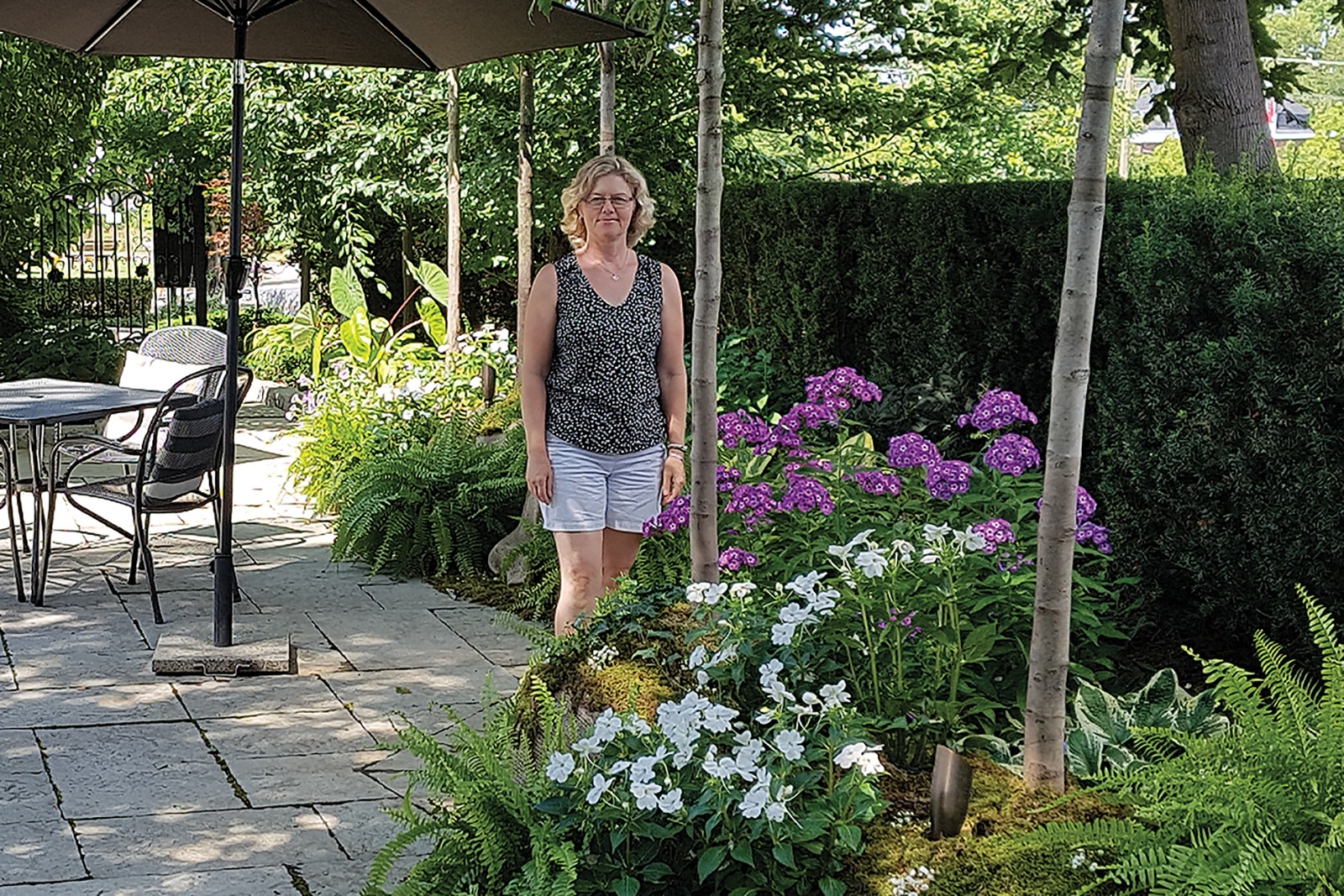 Rhonda Derue sees volunteering as a gift to all (including the giver)
"Do what you love, love what you do," is the phrase that drives fine artist and designer Rhonda Derue. Derue is the owner of Derue Designs and offers home and landscape design services in Gananoque, Ont. and surrounding areas. She has won multiple Landscape Ontario Awards of Excellence, including the inaugural Neil Vanderkruk Award for Excellence in Design. "There is no place that I feel more alive than in nature," Derue said. "It is the greatest gift to be able to bring that passion for the outdoors to the work that I do." Derue also brings her passion as a leader to her local Landscape Ontario chapter and other community initiatives.
How did you get involved in this profession?
As a child, I helped [my grandmother] pick raspberries and sit at Kingston's Market Square to sell them. My mother's love of gardening spread perennial and vegetable gardens across my childhood home. My career as a landscape designer was a natural extension from those early experiences and later, when combined with a fine arts degree, courses through Landscape Ontario, and years of building my own gardens/houses led to the career I have today.
What inspired you to take on leadership responsibilities with the Upper Canada Chapter?
Volunteer groups are only as strong as the people that show up. Our chapter is blessed with many giving and talented people. I wanted a seat at the table where decisions were being made that affected our local community. I'd like to think that my participation in a leadership role has made a positive difference over the years.
What do you enjoy most about volunteering?
It was Walt Whitman who said: "The gift is to the giver." Volunteering is a gift we give forward to the people and projects we spend time with, but the goodness received in return is its own reward. Giving is a rewarding experience that I return to again and again.
What advice do you have for people who may want to volunteer?
Do it! Each of us has unique gifts. What are you holding yours back for? Your contribution helps to amplify whatever you give toward.
Are there other ways you have donated your time and effort?
There are always places, people and causes that can use a little help. I have been involved in many ways over many years, helping where and when it was my place to do so. I am currently assisting an Indigenous Land Trust group in Kingston navigate a relationship with the municipality that wants to develop an industrial park abutting the land where they have developed a food sovereignty garden. I am learning a lot and offering what I can.
What is your favourite plant?
Trying to choose a favourite plant is like asking 'who's my favourite grandchild?' — I love them all!! I have a fondness for helleborus, dwarf pines and chamaecyparis obtusa nana gracilis, rudbeckia and lots of Japanese-inspired plants of every shape and size. The list of favourites is long! Plants continue to teach me how resilience and beauty can coexist and thrive.