December 18, 2015
Ruth Wright
Ruth Wright was gardening on June 7 when she unexpectedly passed away.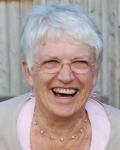 Her husband of 45 years is John Wright, an honorary lifetime Member of Landscape Ontario. For 40 years, she and John ran Wright Lawn Care Services together, while raising three kids and living on their property in the heart of Bloomingdale.
A vibrant 74 year old, she spent the morning with grandchildren, was in email conversations with her daughters throughout the day and had been working on the front of the house with her son just moments before she collapsed.
In October 2011, she suffered a seizure that nearly ended her life. Her amazing health and vitality prevailed, allowing family and friends to enjoy her company for nearly two more years.
She was born Lenora Ruth McHolm on July 28, 1938.
She will be dearly missed by her children Carolyn (Wright) and Patrick Gidyk, Dave and Tracy (Adams) Wright, and Julie Wright and Jonathan Baltrusaitis.
Ruth was Grandma to Sophie and Chloe Gidyk, Hannah and Ethan Wright, and Luke and William Baltrusaitis. She was the beloved sister of Betty Carruthers, Lois Leber, Kathryn McHolm and Lynda Brown. Ruth was predeceased by her brother Roy McHolm and sisters Mary Halligan and MurielMcHolm. As a sister-in-law, aunt and great aunt, she was much-loved by the extended families of both the Wrights and McHolms.
A teacher earlier in life, Ruth was a farm girl at heart and loved her gardens. She was also famous for her pies and hotdog relish. She was an active member of her community through her involvement with Bloomingdale United Church, UCW and other committee activities. She touched many lives with her helping hands, generosity, humour and grace.
Friends and family shared their memories of Ruth with her family during visitation at the Erb & Good Family Funeral Home in Waterloo, on June 12 and 13, with the funeral service following in the Funeral Home Chapel. A reception followed in the Fireside Reception Room of the funeral home. Cremation was held.