July 15, 2013
Safety is everyone's responsibility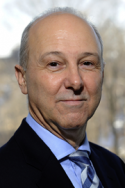 By Phil Charal
LO president
As an owner of a landscape firm, I have witnessed the results of many poor safety practices.
I hate to admit it, but some of the accidents happened in my firm over the past 31 years. Thankfully, all the persons involved in those accidents have fully recovered.
Accidents vary from broken bones to falling in pool
Some of the accidents include broken legs, arms, chisels embedded in thighs, boulders rolling down a hill onto railroad tracks, skid steer and loaders tipping over, trucks being left in a parking lot and rolling out into a busy street, employee falling out of a moving truck onto the roadway, fingers cut off, toes crushed, and an employee with a wheelbarrow full of topsoil falling into pool just hours before an outdoor garden wedding. All this goes along with several herniated disks and hairline fractures.
No matter how well trained an employee is, at times it is simply an accident that takes place because it's the wrong time, place and person. It is an unfortunate circumstance. However, I can state unequivocally that since our firm entered Landscape Ontario's health and safety program many years ago, I have seen a dramatic improvement in our accident occurrences and WSIB claims.
Safety Groups best way to improve bottom line
The Safety Groups at LO are the best way for a firm to start or improve on a safety program. Benefits of participating in a Safety Group include: keeping workers safe and on the job, which improves your bottom line; fewer WSIB claims, more effective return to work options for employees, better employee morale, increased productivity, better access to health and safety resources, and great opportunities for networking.
It's important to note that the safety groups are performance-based and a rebate program has been developed by the WSIB. The program offers participating firms up to a six per cent rebate on WSIB premiums if the group collectively improves its overall performance.
Qualifying to join Safety Group
To take part in the program a firm must meet the following requirements: have a commitment from the owner or senior management, be a Schedule 1 firm, be in good standing with the WSIB, must commit to program for one year, be in only one program at a time, not be a member of the Safe Communities Incentive Program, complete all the requirements of the safety groups program, such as participate in at least three safety group meetings throughout the year; complete baseline and year-end assessments of your firm's health and safety program's strength and weaknesses, develop and implement an action plan of health and safety elements, and keep sponsor informed of progress.
Health and safety is everyone's responsibility. It is so rewarding for a firm to go through a year with no accidents or claims. This should be the ultimate goal for all LO members.