March 15, 2014
Show your pride as a Landscape Ontario member
By Rachel Cerelli
Membership and Chapter Coordinator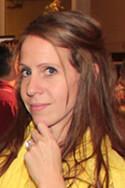 I assume that everyone has their business profile updated on the
Landscapeontario.com
website. It is all done and ready for spring, right? Heck, you wouldn't want to miss the 20,000-plus consumer hits a month.
Now that your profile is done, it's time to sit back and relax. The hard work is done, right? Wrong — now you need to brand your company as a member of Landscape Ontario. Don't just say you're a proud member, SCREAM it!
Promoting the Landscape Ontario brand is actually pretty easy. We have all you need in one spot at
www.horttrades.com/green-for-life
. On the page, you will find menu titles, such as Update Your Member Profile, Order Decals, Download Logos, Brand Standards Manual, and GFL Brochure.
In addition to these marketing tools, there are also license plate covers and replacement proud member plaques which can be purchased by visiting
www.horttrades.com/promo
.
Now, you should be decked out and promoting to the public the fact that you are a professional member of Landscape Ontario Horticultural Trades Association. Your member profile on our searchable website is complete and your own website is all ready for the busy season. Next, it's time for you to promote your Association to the public, and help spread the word about hiring a professional Landscape Ontario member. One way to do this is by participating at Canada Blooms.
Canada Blooms is Ontario's largest and busiest garden show, which brings together more than 200,000 potential customers from across Ontario. Landscape Ontario is proud to be a founding member of this large show. Each year we have a feature garden, which is designed, coordinated and put together by Landscape Ontario volunteers. All members of Landscape Ontario have the special privilege to participate in some aspect of the feature garden, representing their association to the public. If you want to volunteer by setting up, manning the display or taking down the feature garden this year, contact Allie McInnes at
amcinnes@ landscapeontario.com
, or contact the Landscape Ontario office at 1-800-265-5656.
The Waterloo Chapter is also hosting a booth for Landscape Ontario at its local home and garden show. If anyone from the Waterloo Chapter is interested in volunteering to set up, man the booth or help take it down, contact Mike Silva of Platinum Stone at
mike@platinumstonedesign.ca
for more details. I am sure the experience will be worth your while.
---
Rachel Cerelli may be contacted at
rachel@landscapeontario.com
.