February 15, 2017
Snow fighters to the rescue
By Myscha Stafford
LO Membership and Chapter Coordinator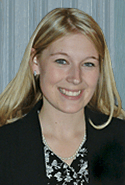 I hope you all had a wonderful Congress experience like I did. The show continues to amaze me each year and it's such a joy to see everyone in one place. There was a huge turnout this year and I would like to thank all of you who came out to the show.
If you visited the LO booth, you may have noticed it looked a bit different this year. Taking some inspiration from our HardscapeLIVE neighbours, we had a lounge-themed booth to encourage networking amongst LO members. It was great to see our space being utilized and we learned that next year we may need to serve more than just Landscaper's Root Beer!
With the weather we've seen so far this winter, it's safe to say the Farmers' Almanac was right about seeing more snowfall. My husband has been working snow removal this winter and after living with a 'snow fighter' for a few months now, I have concluded that I don't like snow.
Being a snow fighter means early morning and late night calls, sporadic working hours and being at the mercy of Mother Nature. Plus there's the risks associated with treacherous winter driving conditions (even if you are driving heavy machinery), which makes snow removal a job that is not for the faint of heart. I now have an entirely new appreciation for the brave souls who keep our roads, sidewalks and parking lots free of snow and ice. Thank you!
Tools to keep you safe
Through my brief wife-of-a-snow-fighter experience, I have also learned the phrase "sleep is for the weak" rings especially true for all snow and ice contractors. While snow removal is a different beast than standard hours of work, companies are still responsible for ensuring their employees have mandatory rests to ensure the safe operation of snow removal equipment. On the horttrades.com website you can find a link under the Labour Resources heading to calculate hours worked, as well as the mandatory rest required between shifts.
It is also important to have contracts with clients that cover all areas of safety and scope of work to protect you and your company. Sample snow and ice maintenance contracts are available online for LO members at
horttrades.com/snow
. These contracts were prepared by LO's Snow and Ice Management Sector Group, who worked closely with representatives from the insurance industry and legal profession. These resources were created specifically to benefit your company. While you have very likely already established all of your snow contracts for the season, perhaps comparing the contract you are using to LO's template might help to ensure there are no gaps in protecting your company and staff.
With my new inside perspective on snow removal, here are some observations I have made about snow fighters:
Just like a football team, everyone has to know their routes. Going over locations, best practices and policies are key topics to cover in training so that on the night of the first snowfall, everyone knows the game plan.
Team work makes the dream work. Hiring quality staff and engaging in on-boarding tactics to make sure everyone feels like a part of the team and will result in better productivity and retention of staff.
Be organized. There are terrific digital programs and apps to help keep your staff organized, track their productivity and ensure clients are happy.
Your staff work long hours, often at bizarre times. A nice treat would be a Tim Hortons gift card left in their machine.
Busy month for chapters
February is a busy of a month for LO chapters. Safety meetings are being held across the province with presentations from Workplace Safety & Prevention Services (WSPS) and the Ministry of Transportation - Ontario (MTO). These meetings are a great opportunity for you and your staff to learn how to avoid costly fines and stay safe this season. The real Valentine's Day party is in Ottawa at the Chapter's Awards of Distinction on Feb. 14, followed by GreenTrade Expo on Feb. 15. The Golden Horseshoe Chapter is busy gearing up for two events, including their annual Family Fun Bowling Day on Feb. 19 and the Gear Up for Spring Trade Show on March 28. Georgian Lakelands' annual Ski and Spa Day returns Feb. 23 and attendees have the option to ski, visit the spa, or do both.
For full details on any of these events, visit horttrades.com or contact me at
myscha@landscapeontario.com
or call 1-800-265-5656, ext. 2333.