February 15, 2008
Tony DiGiovanni CHT
LO Executive Director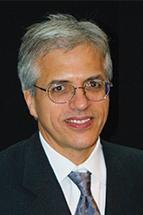 For Landscape Ontario, the period between November and April is our "spring." We cluster many activities and programs into this period, before you get too busy to participate.
Your association is one of the most active horticultural organizations in the world. We hold over 227 educational events. (Next year we will be adding 47 more). We serve 2,239 members in nine chapters and ten commodity groups. Our two award-winning trade shows are among the largest and best attended in North America. Our two magazines reflect the highest calibre of content and visual communication. We are in a fortunate position of owning a mortgage-free 50-acre site that will eventually serve as a full-time school and professional development conference centre. We are co-founders of Canada Blooms, the largest flower and garden festival in Canada (number two in North America). We are part of an effective federation through the Canadian Nursery Landscape Association. We have amazing members who constantly contribute to their Landscape Ontario "community for mutual benefit and improvement."
Here is a very brief chronology of some of last month's activities:
On the Monday before Congress we hosted five seminars. The IPM symposium, irrigation seminars, designers' conference, Certified Landscape Professional seminar and Jim Paluch's lean management seminar were all very successful. Three of the five events were sold out. Thanks to Beth Edney and her team (Paul Brydges, Connie Cadotte, Don Chase, Nancy Collins, Janet Ennamorato, Harry Gelderman, Sabrina Goettler, Jennifer Hayman, Judith Humphries, Alice Klamer, Ron Koudys, Anthony Lombardi, Fred Post, John Scanlon, Greg Scarlett, Haig Seferian, Patricia Stanish, Ron Swentiski) for putting together a wonderful designers' conference. You made all of LO look good. Thanks also to Paul Doornbos for leading his first CLP session. It is a testament to Paul's enthusiasm that after his session most participants wrote their CLP exam on sales and marketing. Thanks go to Monica van Maris and her team for decades of success with the IPM symposium, and to Harry Hutton and the irrigation commodity group for the irrigation conference. Like I said, we have amazing members! Special recognition must also go to the staff members involved, Pat Hillmer, Denis Flanagan and "professional multi-tasker" Kathleen Pugliese!
Two other important meetings were held on Monday. At the executive/finance committee meeting, a progress report was presented on last year's activities, and a prioritized "Plan 2008" was developed. One of the reasons for LO's success can be attributed to this planning and prioritization ethic. The three main priorities for 2008 are:
Human resource development (business and technical competence, long term labour development)
Public promotion of the industry and members
Chapter/Commodity Group local relevance
The complete "Plan 2008" will be posted to the website (
www.horttrades.com
) as soon as it is approved by the full LO board.
New president Bob Adams was introduced at the past presidents' meeting. This is a very important and special meeting, because it links the past and present to the future. The wisdom and experience of the organization's pioneers is freely offered.
On Tuesday, Congress opened to the best weather in its history. There was a wonderful and positive "buzz" on the trade show floor and conference. Almost 13,000 people enjoyed the event over the three days. Did you know that Congress now occupies seven acres of space? The students from Fanshawe, Humber and St. Clair College did a wonderful job building the garden features. Our future is assured with the talent that is coming out of the various programs. The day ended with a celebration of Elvis Presley's birthday in the form of a very glitzy Vegas-like Awards of Excellence program. The show honoured the "best of the best." Elvis even showed up to sing a few numbers with the winners. Also, the branding, building and lawn care groups made time for meetings the first day of Congress.
On Wednesday morning the day started with the annual general meeting (AGM). This is the one meeting of the year in which the general membership can address the board in a formal manner. The year's progress is reviewed and the tone is set for 2008. The retirement of two staff members was also announced at the AGM. Pat Hillmer (our conference coordinator) left on January 31 and Terry Murphy (human resource manager) will be leaving this June. Both individuals have made enormous contributions to the association and industry.
On Thursday (between meetings), I finally had a chance to sit in the LO booth. I love meeting and speaking to members. Thanks for making Congress a huge success.
On Friday and Saturday, there was a national meeting of the Red Seal committee. This was a very important meeting, because the results shape the future of horticultural education for generations. Association representatives from every province (except P.E.I.) made huge progress toward agreeing to a common curriculum and process for a nation-wide harmonized horticultural apprenticeship program. Once this process is complete, the horticultural trade will be designated a Red Seal occupation. This brings federal recognition, credibility and developmental benefits. Small groups of focused people really can make a huge difference. Our very capable representatives were Sally Harvey and Terry Murphy.
The following week Bob Adams, Stephanie Smith (LO's new chapter coordinator) and I participated in the Ottawa and Upper Canada chapter meetings. These were the first official functions for new President Bob. It was great to witness. Bob's strength is his passion and enthusiasm for the association. He encouraged both groups to "celebrate and educate."
Lynn Lane, our Ottawa chapter coordinator and Green Trade Expo manager, set up a meeting with the executive director of the Building Owners and Managers, Association (BOMA). They are developing a Go Green environmental stewardship program for the property management and building industry. This meeting could lead to a great partnership among organizations. LO's environmental stewardship committee is looking at developing a report-card type landscape stewardship program that can be linked to BOMA's. Call me if you have ideas, comments and suggestions.
See you at Canada Blooms. There will be a special Landscape Ontario night at Canada Blooms on Thurs., Mar. 13th. Watch your mail for your tickets and more details.
---
Tony DiGiovanni may be reached at
tonydigiovanni@landscapeontario.com
.