January 15, 2009
Strong association and positive attitudes will bring a prosperous year
Bob Adams
LO President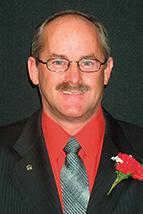 Wow! It never ceases to amaze me what we as an organization can achieve when we put our minds to it. Over the past year, I have had the privilege to visit, partake in and celebrate your achievements. Congratulations on jobs well done.
During a year that presented hurdles through an ever-fluctuating economy, we still have reasons to celebrate. Having the strength of a solid organization behind you will only lead the way to a prosperous 2009. And, facing the uncertainty of the new year with positive attitudes and aspirations can move us towards the results we hope for in business and life.
Inspired by a conversation with business associates this topic arose: "How do you survive in times like these?" Our conclusions are as follows:
We need to talk to people, develop networks, discuss things with others, and have the meeting after the meeting. That's where ideas develop.
Don't pass on negatives to your customers.
Increase your advertising activity.
Make your customers and potential customers aware of you.
Survey your customers, ask them how you can be better.
Tell your staff to have a positive attitude, for it's contagious.
Eliminate waste (waste comes in many forms).
Concentrate at what you are really good at.
We must continue to proactively make our presence known. If you think positive. If you act positive. You will be positive.
Remaining positive and putting a positive spin on each situation you face should result in a win-win situation for all. If your clients can't afford what you are proposing, offer alternatives. Suggest an alternative two- to five-year plan, and explain the benefits. Don't be turned away by negatives.
As always, I welcome your thoughts and comments on the above topic. They can be forwarded to me at
robertadams@landscapeontario.com
.