June 15, 2010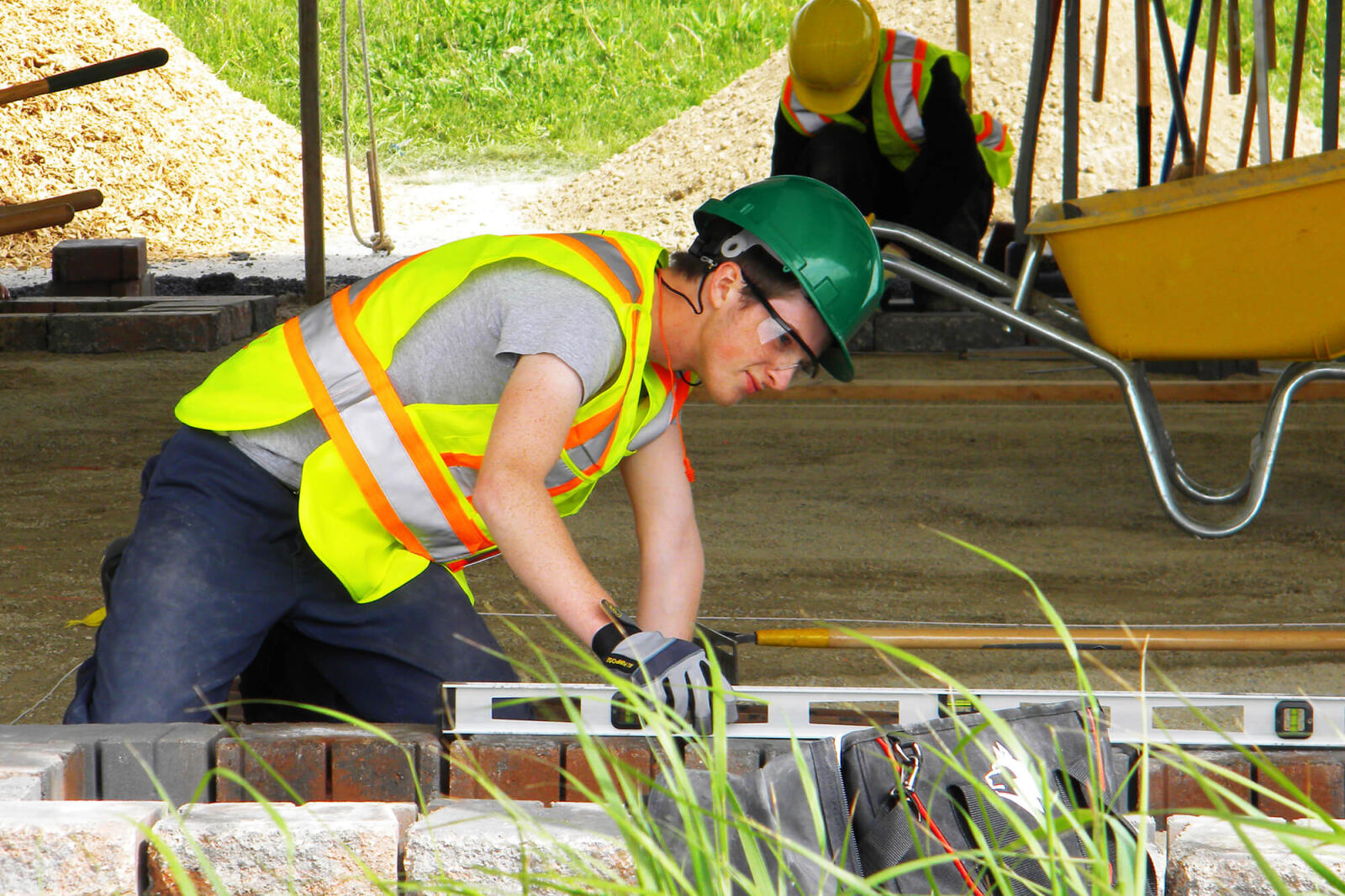 Students compete in Skills Canada competition
Waterloo was the centre of attention for students taking part in Skills Canada competitions. The community hosted both the provincial and national competitions this year, and Landscape Ontario was a big part of both events.
"Landscape Ontario is proud to have participated," said LO's education and labour development manager Sally Harvey CLT, CLP. The Ontario skills competition took place on May 17 and 18, while the national competition was held on May 20 to 23 at RIM Park in Waterloo. Over 30,000 spectators attended the annual event, with 1,800 students competing in over 60 trades. The national event attracted 55 competitors and 10,000 spectators.
The Landscape Gardening event hosted 15 secondary school and five college teams. "All teams represented their school boards with great maturity. I can honestly say that these students have a great future in this industry, as they demonstrated a solid level of skill and understanding of the scope at hand. Any employer would be impressed with the performance of these competitors. The students executed the challenging design created by Beth Edney CLD, demonstrating a solid foundation of skill and knowledge of industry standards for both hardscape and softscape components."
Top three secondary school teams are:
Gold: Halton District School Board, Tyler Garrard and Joseph Isaak (Tyler was a co-op student with the CNLA and is now completing his co-op term with Landscape Ontario)
Silver: Halton Catholic District School Board, Jake Daoust and Kyle Mifsud
Bronze: Waterloo Region District School Board, Benjamin Warner and Ray Knechtel
The top three post-secondary teams are:
Gold: Fanshawe College, Allan Campbell and Melissa Sparling
Silver: Fanshawe College, Ryan Arthur and Nikita Van Beers
Bronze: St. Clair College, TJ Kotyk and Richard Pichette
"All of the competitors are champions, having won top honours at their respective regional skills competition to qualify to compete in the provincial event. Congratulations to them all," said Harvey.
The LO manager went to say that the provincial competition would not be possible without the passion and commitment of the two technical chairs, Shane Jones and Al Nason, both exceptional horticulture teachers in Ontario. Barry Harrison from Skills Ontario was a tremendous guide as well, making sure that the new outdoor venue was ready to accommodate the growing number of teams.
"Of course without the incredible support from our endorsed suppliers, this event would not have happened. The generous donations included vast quantities of plant material, material, hardscape supplies, site set-up equipment, competition tools and equipment and even training on equipment that the students had access to during their competition," said Harvey. She noted special thanks to Skills Ontario, Battlefield CAT Equipment Rental, Connon Nurseries Neil Vanderkruk Holdings, Dirt Cheap, Greenhorizons Group of Farms, ITML Horticultural Products, Martek Landscape and Construction, Permacon, Steed Evans, Stihl, Valleybrook Gardens, Westbrook Floral, Waterloo Flowers and Landscape Ontario.
Judges at the landscape competition included Rachel Burt, Darcy DeCaluwe, Chris Huebert and Sally Harvey. They were seriously challenged with the task of judging this close competition.
With the growth in the number of Specialist High Skills Major programs in landscape horticulture (17 this year and 24 programs planned for the 2010/11 school year), it is expected that the number of teams will increase. "With that increase, we will most certainly witness an increase in the technical calibre of the competitors as well. A good news story for our industry," said Harvey.
On May 17 at the Skills Ontario Workshop, the Landscape Ontario team comprised of Rachel Burt, Karah Harvey and Helen Hassard, along with sponsors, facilitated an interactive learning opportunity for 120 grade 7 and 8 students. The students learned about perennials and then planted seasonal planters that they took home to nurture and watch grow. The Green for Life message was well received by these youth.
Skills Canada
The competition is the only national, Olympic-style, multi-trade and technology event of its kind for young students and apprentices in the country. The two-day event included 40 different events, showcasing six major trades and technology categories.
This year's competition drew numerous special guests and dignitaries, including, M.P. Peter Braid and Mike Holmes, host and creator of Holmes Inspection. "An event like the Skills Canada competition gives me great encouragement about the future of skilled trades and technology careers in Canada," said Holmes. "I am so proud of the calibre of projects showcased at this event, and I look forward to continuing to support unique programs and competitions that promote skilled trades to young people."
Results of the 16th Canadian competition in the landscape sector saw a team from Winnipeg, Man. win top prize, with a Quebec team taking second and an Alberta team grabbing third place.
Skills Canada was founded in 1989 as a national, not-for-profit organization that works with employers, educators, labour groups and governments to promote skilled trades and technology careers among Canadian youth. Its unique position among private and public sector partners enables it to work toward securing Canada's future skilled labour needs while helping young people discover rewarding careers. For more information, visit
www.skillscanada.com
. Skills Canada competitors at RIM Park all wanted to make Team Canada for WorldSkills in London, England in 2011.