May 15, 2010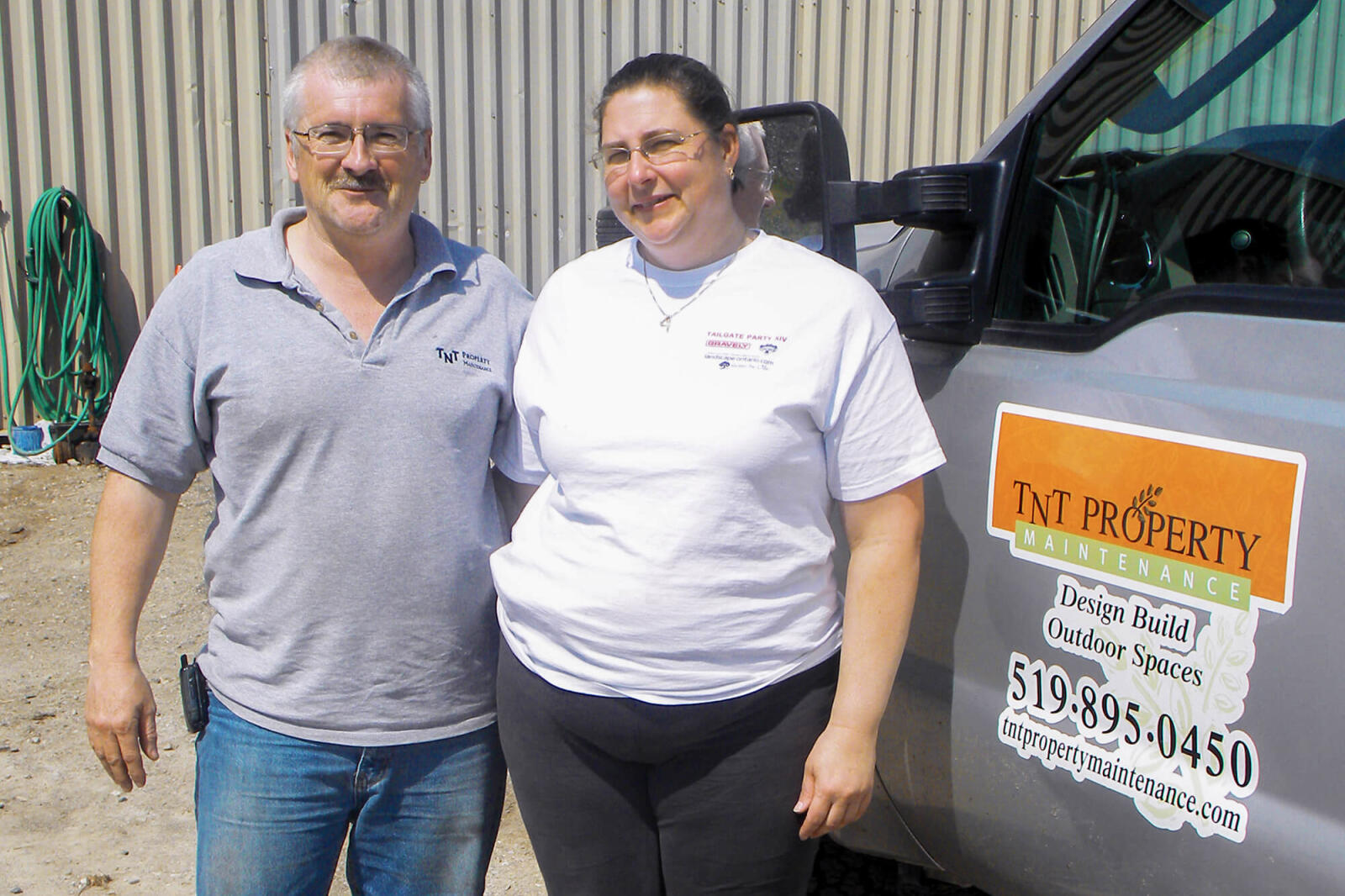 Success means more than dollars at TNT Property Maintenance
By Allan Dennis

Rob and Linda Tester of TNT Property Maintenance measure their success not just in dollars, but in relationships with family, community, staff, association and business.

Since 1993, TNT Property Maintenance has served Kitchener-Waterloo and southwestern Ontario. A full service landscaping and maintenance contractor, the company provides unique design/build outdoor spaces, lawn and garden care, snowplowing service and exterior repairs.

Give back to community
"We try to give back to the community as much as possible," says Linda. When attempting to list the groups that Rob and Linda give of their volunteer time, they rely on each other to remember the various organizations. The list includes churches, school councils, schools, high school horticulture and construction classes and, of course, professional associations.

With over nine years of involvement with LO's Waterloo Chapter, Rob has just been named its president. He served as the treasurer for most of the nine years he has been on the chapter's board. He is also a member of the LO Snow and Ice Management Sector Group Committee and chairs the education committee of Waterloo Chapter.

Began landscaping in teens
Rob became involved in landscaping as a teen with his uncle in Toronto, who owned a landscaping company. He didn't immediately turn that experience into his life's career, instead going to Humber College to be a chef. After working in that industry for awhile, he missed working outside and his passion for plants brought him back to the landscaping industry.

TNT began with Rob and his desire to have his younger brothers join the company, resulting in the acronym derived from Tester and Tester. His younger brothers chose to begin their own businesses. Gerald began Rede Solutions and provides design, engineering and project management for international waterfeatures. Ken began Multi-Tester Electric and provides commercial electrical services in the GTA. TNT also renovated homes, but soon expanded full-time into landscaping. Linda came into the business with her economics degree, helping with the books, marketing, and safety training. "Plants and working in the soil are not my favourite activities," says Linda. Rob and Linda are also heavily involved in health and safety programs, both earning accreditation certificates through the Construction Safety Association of Ontario.

The company has evolved into taking on larger projects and has expanded its line of custom work. "I have lots of plans for the company, but I also believe in letting the market determine where we go," says Rob.
TNT has a solid clientele in the winter snow removal side of the business. "We actually cut back on the number of clients in order to provide better service to them. At the same time, I increased the rates to reflect our high quality service. It allows us to provide high quality by not wearing out my staff."

In late April, the Chapter completed a greening project at St. Michael's School in Cambridge. "It was great to have the organization and precision that comes with working with LO local members on these greening projects," said Dennis Wendland, Evergreen School ground greening consultant, serving Waterloo Region Schools. "Thank you to the entire chapter for approving this partnership with Evergreen and a local school each year."

Rob and Linda highly recommend giving back to the community. "Not everything in one's life should be about profit," says Linda. They recount an example of the benefits in helping community through an experience they had volunteering to construct a church prayer garden. "We met so many great people during the construction, who are now friends. The end result for us was the amazing feeling we were left with. And, that's something that money can't buy."