February 15, 2012
By Helen Hassard
Membership and Chapter Coordinator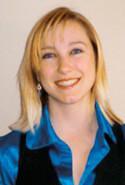 With Congress 2012 right behind us and everyone still buzzing from the show, I want to tell you all about the cool things we did this year to get out the Green for Life message at the show.
The main element that the membership department was involved with at the show was of course the Landscape Ontario booth — number 41. This year's booth featured a new streamlined design that helped deliver our message in a clear and concise way, but still had an attractive and horticulture-friendly appearance, as long-time members Sheridan Nurseries donated plant material.
One of the most popular features at this year's booth was the job board. This year we had to order additional panels to accommodate the added job postings. This is a great sign for our industry, the economy and for our students. Providing this member benefit (only members can post jobs at the LO job board) means our members have a simple way to connect with potential employees.
In addition, having the job board at the back of the booth gave us a chance to interact with not only the members, but students entering the industry.
The job board worked extremely well, because we also had representation from the Ontario Horticultural Trades Foundation promoting the scholarships available to students. Besides the Foundation, CNLA (Canadian Nursery Landscape Association) had a strong representation at the booth. The relationship between LO and CNLA continues to stay strong.
This year the LO booth also had member representation as Carol Fulford of the Durham Chapter donated her time; as a member she provided her perspective at the booth. It was extremely helpful and potential members were able to hear about the value of LO directly from a business owner.
Another great element of the booth was the map of Ontario. This year we took a poll of where visitors to the booth came from, and had them post the location on the map inside the booth.
Besides the booth, LO made sure we were well represented all over the show by handing out pamphlets in associate member booths, that explained, 'Why to be a member.' We also distributed membership information at the conferences and putting Green for Life stickers on all the trucks at the show.
Overall, this year was a tremendous success. Past president Gerald Boot, CLP, put it best, saying, "The function of the LO booth is to meet the members and potential members. The layout of the booth worked extremely well, as its inviting layout attracted the attention of the delegates. Congratulations on a job well done."
---
Call at 1-800-265-5656, ext. 354, or email
helen@landscapeontario.com
, or tweet me about it at
@LOMembership
. I would like to hear your thoughts and feedback.