December 15, 2014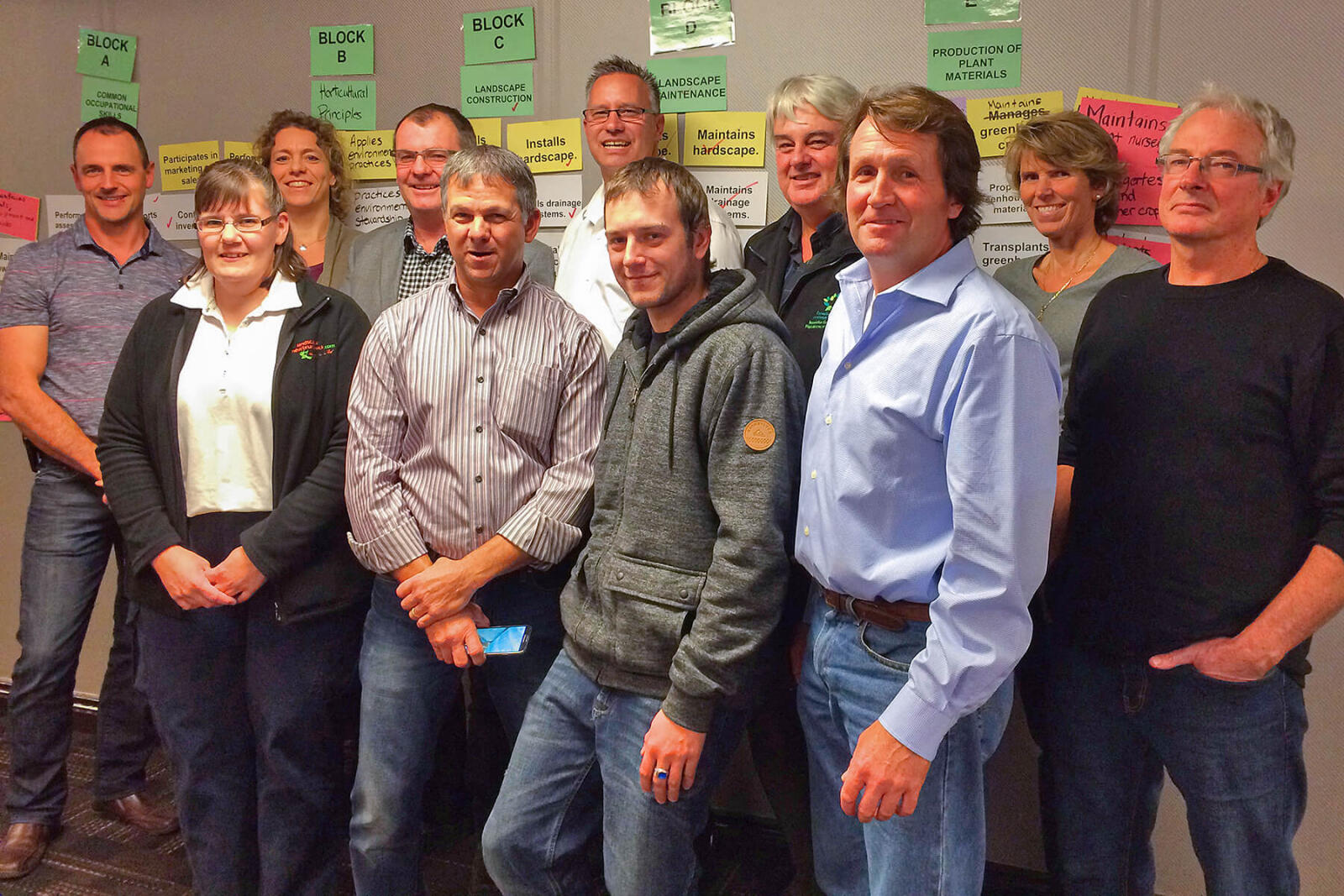 Support needed for occupation skills review
"Our industry is blessed with an amazing training program that supports skills development and competency during the off season," says Sally Harvey, Landscape Ontario's Manager of Education and Labour Development.

Harvey provides support for human resource development for both Landscape Ontario and the Canadian Nursery Landscape Association (CNLA), and is speaking about the Landscape Horticulturist Red Seal apprenticeship program. She laments the disappointing fact that apprenticeship programs are being cancelled in Ontario due to poor uptake by the horticulture trades.

Colleges, the training delivery agents for the apprenticeship programs, work hard to stay current with the demands of the trade. Program staff makes connections with industry members in order to be sure they are teaching students skills that are relevant in the workplace. Despite the work to stay current, Harvey says in some cases, associations and colleges are marketing and promoting apprenticeship training opportunities to no avail.

Recently, industry volunteers from across Canada gave up a week of work in November to take part in the review of the National Occupational Analysis (NOA) for the Landscape Horticulturist occupation with staff from Education and Skills Development Canada (ESDC) in Ottawa.

Harvey says that despite the fact that our apprenticeship registrations and completions in the last five years do not indicate strong industry support, ESDC still granted us the opportunity for an occupation skills review.

The government believes in the growth and strength of the industry, and has invested in us by bringing leaders together to update the NOA.

Tim Kearney, president of Garden Creations of Ottawa, was pleased to be invited to take part in the process and has written a passionate plea asking others to support the training programs. Following is Kearney's letter addressing his thoughts on the issue:

"The landscape industry is crying out for skilled labour, yet no one is taking advantage of a program that pays young people to obtain a practical education and recognized credential.

"In an industry where there never seems to be enough time, a group of dedicated, intelligent, and passionate leaders met to discuss the requirements of a Red Seal Landscape Horticulturist.

"For me, this was the first time attending such an event, and quite frankly I was somewhat intrigued and excited about getting my first chance to offer an opinion.

"Our facilitators were nothing but fabulous and most accommodating and also, somewhat sympathetic because in their world, verbs mattered. In my world it's, 'who cares — just get it done and don't screw it up.'

"But patiently we drilled down to the lowest common denominator the requirements of the Landscape Horticulturist. We had to review what was done in 2008. It just goes to show the changes to our industry, when we had to include things such as environmental stewardship, and horticultural principles thus requiring new ground to be covered.

"Anyone reading this may simply say, 'how boring.' But, you couldn't be further from the truth. To watch people who 'get it' go word for word, line by line, verb by verb and create a document that can be used to exemplify the skills a Red Seal apprentice must have was most rewarding.

"But it also did show a desperate need to elevate all of our education programs to include these new fields about which we are now required to be knowledgeable. Education committees from across the land need to immediately look at their programs and confirm that they are current and offering courses to help all our members become even more relevant.

"There is the need to call to action every member who proudly proclaims their CNLA membership. This is the only way we will ever create relevance and a desire to have every member with a Red Seal certificate.

"Quite frankly, we are lousy at spreading the word as to what we are all about. No wonder we are desperately in need of people coming into our industry — Canada wide! I have heard story after story about no staff. Seriously? No wonder. When programs are put in place to create relevance, we do not get buy in.

"So, a group of people from across the land clarified what we require. Some things change, and yet some things never change. Do we, as an industry have the desire to work together to create change and say enough is enough? In hindsight, the week we gave in early November was an honour because I was in a room of winners wanting to help each other. So we can decide to be a functional team working together to create relevance or remain dysfunctional until the next NOA meetings."

Harvey says it is now up to companies in the horticultural trades to show that we deserved this investment, and that we support the industry and our country by adopting competency training such as the apprenticeship program. One place to start is by attending the Cultivate and Connect program at Congress on Jan. 5 and 6, which will be a great place for industry members to make connections with horticultural educators from all programs.