November 15, 2011
Tony DiGiovanni CHT
LO Executive Director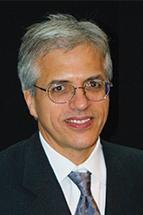 Sometimes life gets so busy with meetings, emails, phone calls and projects, it's easy to forget, overlook or take for granted really important things. A couple of painfully sobering experiences last month made me stop to reflect on those issues.
I love working for a membership comprised of amazing, hardworking, passionate, dedicated, positive and contribution-oriented individuals. My fellow staff members are equally inspired by the countless hours members devote to the organization. President Tom Intven describes this unique membership trait as the "Landscape Ontario Gene."
I often think about Landscape Ontario as a family, church or club for mutual improvement. However, sometimes it is easy to forget that families, churches and clubs are made up of individuals. Our focus must always be to listen, serve, provide value, support and appreciate individual members.
At the October board meeting, a member I greatly respect and admire remarked that in 25 years no one picked up the phone to ask how he was doing. The comment struck me hard. I felt saddened, and a little ashamed.
Coincidentally, the day after the board meeting, I received a call from a long-time member (who is now a teacher) telling me that a recent interaction with the office made him feel we had lost some empathy and compassion. He had missed a registration deadline for his students by one day, and we were being inflexible.
During our discussion, he revealed that he let his membership lapse because of a previous interaction. He felt we had lost our 'family' culture. I was again saddened and felt guilty. I did not even know he had quit the membership a year ago. I should have. It was also interesting to hear he felt guilty for quitting. This reveals how much members care about the organization. All it would have taken was a personal phone call from me to iron-out a misunderstanding. As it turned out, I am pleased to say he has now returned as a member.
Another incident last month also got me thinking that Landscape Ontario is really a lot more than a business organization. I was privileged to be invited to John and Ricky van Wissen's 50th wedding anniversary (see page 11). John is now in a retirement home, after suffering a stroke a number of years ago.
There were many other LO members at this event to celebrate the wonderful occasion with the van Wissen family. Years ago, John called to tell me that the former Shemin Nurseries site was for sale and that the association should purchase the property, because it matched the description in our Strategic Plan. We did. I reminded him about this. His face lit up. He is still proud of his Landscape Ontario community.
Early this month, we hosted a think-tank featuring an industry consultant from California named Judith Guido. She described branding as the sum total of all the interactions that an organization has with its stakeholders. Branding is much more than a logo or advertising campaign. It is the culture of the organization. She challenged members of the group to reflect on their own businesses and come up with one word that describes the desired culture.
It got me thinking about the one word that describes the culture of Landscape Ontario. The first word that came to mind was 'help' in that every interaction with the membership should be helpful. One of our members Kristin Ego MacPhail suggested that the word should be 'supportive.' I agree.
If you have any ideas, comments, advice, or suggestions on how we can be more supportive, please email me at
tony@landscapeontario.com
, or call me at 800-265-5656, ext. 304. If I or any of our excellent staff have ever reflected a lack of empathy or support, please let us know. We are always striving to do better, but sometimes we may not be aware. If any of our processes or policies appears callous, insensitive or inflexible, please tell me. If you feel like your contributions are not valued, I would love to hear from you.
As the years go by, it has become evident that the association is really about community building in its human sense. Horticulture is the excuse. We exist to support each other's growth personally, financially, socially and spiritually. We exist to because our members care.
A thank you
So many members contribute so much to this organization that it is very easy to forget to thank people. I want to thank Pat Lamanna of G and L Group, Bill McKague at Gro-bark, Connon Nurseries NVK, M. Putzer Hornby Nursery and Sheridan Nurseries for the recent landscaping contributions at the Landscape Ontario home office site.
I also want to highlight the amazing contributions made by Grant Harrison, Mike Martins and Barry Sandler. They took on a huge responsibility to complete London's Veteran Memorial Highway Project. This is a very large and important multi-year project. They recently completed a planting of 200 trees on the highway site with the help of many volunteers (see page 7). Their efforts reflect well on everyone in the association and industry. We are very proud of their accomplishments and leadership. Well done!
---
Tony DiGiovanni may be reached at
tonydigiovanni@landscapeontario.com
.