December 15, 2017
The most wonderful time of the year
By Myscha Stafford
LO Membership and Chapter Coordinator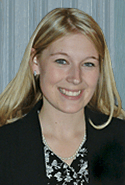 Your membership team is getting into the holiday spirit in a big way this year. We will spend December visiting members within our Garden Centre Sector Group. If you have been reading your e-news and
LO magazine
, you'll know LO's Garden Centre Sector Group in partnership with the Canadian Nursery Landscape Association (CNLA) recently hosted the International Garden Centre Association (IGCA) Congress with over 250 delegates from more than 22 countries attending.
Garden centres across the province are one of the best ways to spread LO's Green for Life message to the public. They are a front line resource for encouraging homeowners to hire a professional.
Booming holiday business
LO's garden centre members are real experts in plant products. They supply hardgoods and décor items and they are essential in supplying things to get you into the holiday spirit. The Christmas tree business is booming! According to Statistics Canada, $78.4 million worth of Christmas trees were sold in 2015. Compare that to the $64.4 million sold the previous year. With large garden centres bringing in over 1,000 trees… that works out to a lot of tannenbaums!
Each year, garden centres get more creative in their marketing to include visits from Santa and even live reindeers on site.
Aside from the numbers, the feel-good value that garden centres offer cannot be overlooked — or priced. Walking into a garden centre decorated for the holidays gives a lift to even the heaviest of hearts.
Aside from the excellent displays of creativity to showcase products, garden centres become even more magical during the holidays and offer all patrons an extra special dose of holiday cheer. We look forward to seeing these creative and festive displays and sharing the success stories of our garden centre members this holiday season.
Shop for the holidays at LO
In the spirit of the holidays, I have come up with some suggestions you may want to add to your wish list:
2018 truck. Preferably in black, and definitely with the backup camera and tow package. Santa, don't forget to call CNLA to get the letter to save thousands on this beauty!
Congress trade show pass for you and your employees.
LO Professional Member 2018 decal for all your company trucks
Mark's Work Warehouse or Work Authority discount cards in all your employees' stockings.
Professional Development seminars for you and your staff.
A fuel savings card for each company truck.
And a partridge in a pear tree to plant on your favourite client's property to be entered into the LO Awards of Excellence program.
Volunteers are like guardian angels
As we look towards a new year, I would like to thank all chapter boards and volunteers for their hard work planning wonderful meetings and events for our members. Thank you to everyone who attended these events. It has been incredible to see the hard work of our members, not only in their own businesses, but also in the countless projects in which members have dedicated their time and energy to make a success; thank you.
Your membership services team is looking forward to an exciting 2018 and would love your feedback and input on how we can meet your needs and develop resources to provide solutions for your business. Remember, we are here for you.
I encourage you all to have a look at chapter events coming up, as well as the membership benefits that can assist you, your staff and your business.
Happy holidays and see you at Congress!
---
Myscha can be reached at
myscha@landscapeontario.com
or 1-800-265-5656 ext. 2333.