June 15, 2010
The original green industry
Tony DiGiovanni CHT
LO Executive Director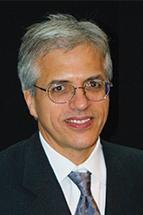 As the original green industry, we sometimes forget that our occupation has always been based on a foundation of stewardship and improvement. I love how one of our members characterized our trade as Stewards of Creation. You improve the quality of life and environment every day through your daily activities. As an association community, we sometimes forget to tell our story of societal and environmental benefit.
Recently, Environmental Stewardship Committee chair Nathan Helder asked me to summarize some of the stewardship activity that the LO community is involved with. Here is a brief summary:
Native Tree Atlas
We are working with the Ministry of Natural Resources in order to promote the planting of native trees. This project was started by Denis Flanagan. As part of this initiative we have:
Developed and distributed a poster promoting the use of native trees
Participated in the Native Tree Atlas that was launched by planting a tree on Earth Day at Queen's Park with the Minister of Natural Resources, the Honourable Linda Jeffrey
Sponsored a native tree brochure, to be distributed at garden centres and through the membership, as well as by the MNR
Agreed to plant a Living Tree Atlas on the Landscape Ontario home office site. Haig Seferian prepared an excellent plan for this project. The public will be encouraged to come to the LO site to see 28 native species.
Smart about Salt
A new group has been created with the title, Smart about Salt Council. Members include the Region of Waterloo, Landscape Ontario and the Building Owners and Managers Association (Ottawa). The purpose of the Council is to promote professionalism, environmental stewardship and insurance liability reduction, based on increased documentation and promotion of best practices. The group will oversee the accreditation and professional development process for participating contractors.
City of Toronto investigation of green accreditation
Discussions have taken place with the City of Toronto to create a green accreditation program, based upon the principles and agenda outlined by the Environment Committee's Environmental Scorecard. The City of Toronto has a keen interest in helping develop the program. The Ontario Parks Association is also involved in this project. Committee member Scott Bryk is the lead on this initiative.
Water Conservation Initiative (Halton Region)
The Irrigation Sector Group, through the efforts of its chair Chris Le Conte, organized an education meeting in Halton Region for members dealing with water conservation in that municipality. Landscape Ontario is accepting responsibility to develop water stewardship programs and activities. This initiative could also integrate as part of the green accreditation concept. The Irrigation Group has also developed a new website at
www.ontarioirrigation.ca
.
Green Infrastructure Coalition
This coalition was initiated by Steven Peck, executive director of Green Roofs for Healthy Cities. Members include Ontario Parks Association, Toronto and Region Conservation Authority, LEAF, Evergreen, Green Roofs for Healthy Cities and Landscape Ontario. The purpose of the Council is to promote the benefit of 'leafy' green infrastructure at all levels of government and the public. We are hoping that by increasing awareness opportunities, it will lead to a greater understanding of the societal benefits of green space, landscapes, gardens, plants and green infrastructure.
Ontario Water Conservation Alliance
We have joined this Alliance, aimed at promoting the importance of water stewardship. From our perspective, the main message is the benefit of green infrastructure in capturing and filtering water run-off and promoting the importance of planting as a water stewardship measure.
Greening Highways Project
We participated in the Greening Highways demonstration and research project at the intersection of Highways 401 and 427, and 401 and Allan Rd. The purpose of this project is to research and demonstrate the best plants and processes that would lead to success in greening our highways. The project also tests the potential of Ontario-grown liners. We are supporting the research component of this project through Vineland Research and Innovation Centre.
Conservation Halton Initiative Wetlands Best Practices
Nathan Helder has been able to convert a very difficult issue regarding wetland development on his own property into a positive potential demonstration project. It has the potential to provide a basis to promote best practices on wetlands. This project may also integrate well with the concept of green accreditation, as long as accredited companies receive a benefit, which could include fast tracking of permits, contractor pre-qualification and public relations benefits.
Schoolyard Greening Project, Waterloo Chapter
This is the fourth year that the Waterloo Chapter has participated with Evergreen in greening a school yard. This year's project at St. Michael's Elementary School in Cambridge. The planting ceremony was particularly touching.
Gilda's Club Landscaping, Georgian Lakelands Chapter
The chapter completed its landscaping of a Gilda's Club site in Barrie this spring. The mission of Gilda's Club is to create welcoming communities of free support for everyone living with cancer. The Georgian Lakelands chapter demonstrated the environmental benefits, but more importantly, it showed the social benefits of a caring community.
National Plastic Recycling Wee
We are promoting National Plastic Recycling Week in conjunction with CNLA. As part of this effort, Landscape Ontario's home office will receive plastic pots, tags and trays from the industry and public, starting June 28 to July 5.
Environmental Scorecard
The scorecard has been a huge hit. Over 300 companies filled out the scorecard. The process assists companies with stewardship improvements. The summary can be found at this link:
www.horttrades.com/survey-monkey
.
The scorecard has initiated inquiries from the U.S. and Canada. One professor from North Carolina requested permission to use it.
The scorecard is a self-assessment tool, however, the committee will use the information to develop content for a future environmental manual, education programs and a possible green accreditation program.
These are only some of the many environmental initiatives your association is involved with. The original green industry can be proud and thankful.
---
Tony DiGiovanni may be reached at
tonydigiovanni@landscapeontario.com
.