November 2, 2016
By Myscha Burton
LO Membership and Chapter Coordinator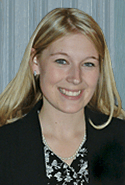 Denis Flanagan and I were working on a presentation when he coined the phrase "this is your association." It embodies what Landscape Ontario is really about: you. With over 2,400 members, LO is here to connect you with your fellow professionals, provide education and training and help you, your business, and your staff to thrive. Membership renewals are coming up soon, so I wanted to remind you of the benefits available to LO members (see special section on page 21-35 for full details on any of the benefits mentioned).
Education and training
Landscape Ontario offers over 100 professional development opportunities including seminars, training, certification and sector-specific conferences. On average, members save $115 on each person registered due to preferred pricing.
Commitment to professionalism
Remember the references, insurance information and job site photos you needed to provide with your membership application? We ask for those items because our members are leaders in quality work, safety and professionalism. Active, Associate and Chapter Associate members get to show off this professionalism using the Green for Life logo on trucks, equipment, mailings, etc. The majority of these items are available to members for free.
Landscape Ontario works to educate the public on the many benefits of enhancing their outdoor spaces and hiring a professional to do so. This is done through the Canada Blooms,
Garden Inspiration
magazine, local home shows and public relations initiatives. Our consumer website receives over 20,000 unique visitors per month and Active members can get their own page to connect with potential clients.
Communication
LO keeps you informed through
Landscape Ontario
magazine and
Landscape Trades
as well as weekly electronic news and
horttrades.com
. Members also get special pricing on display advertising.
Member savings program
Whether you're buying a truck, attending a seminar or exhibiting at a trade show, there are many cost-savings benefits available only to members that will pay for your membership dues many times over. This year alone, over 340 companies utilized the CNLA member discount programs through General Motors and Chrysler. A total of 513 vehicles were purchased which adds up to over $5 million in savings for members. For details on the endorsed supplier programs visit
cnla-acpp.ca/benefits
.
Labour resources
We have a user-friendly HR Toolkit available to help you create your own policies and procedures manuals, employee handbooks, and recruitment and retention guides. The information is great for both employers and employees. The
HR Toolkit
can be used to create the perfect job posting, which can then be posted for free at landscape.jobs, our new national employment website.
Your membership dues also provides you with 24/7 access to telephone legal advice. A team of lawyers is available to answer any and all of your questions on labour disputes, contracts, etc.
Chapters and networking
LO's nine regional chapters allow you to connect with other professionals in your area. Chapters are run by volunteers who organize educational meetings and fun social events. These experiences offer unbeatable learning and networking opportunities. You are welcome to attend meetings in any chapter and we encourage you to bring your staff. We have a great line-up of summer events across the province and are planning for fall and winter meetings. Be sure to check your e-news and your chapter's webpage on horttrades.com for more information.
Whatever your reason for joining LO, you are now a part of a larger community of professionals committed to the highest standard of quality work, continuing education and beautifying our world one project at a time. We hope you can utilize the business solutions and opportunities we offer.
---
Contact Myscha at
myscha@landscapeontario.com
or call 1-800-265-5656 ext. 2333.