March 15, 2011
Time to break down the barriers
By Helen Hassard
Membership and Chapter Coordinator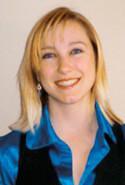 "Welcome." It's just one simple word with such a large impact. Just by saying it to someone, you engage them and open yourself up to many possible scenarios.
Maybe the word will start a long conversation about business, landing you a new client. Or, maybe your words of welcome will make that other person come back and bring a friend to whatever event, or meeting.
As I'm sure you've figured out by now, this article is geared toward engaging each other. One of the many benefits of being a member of Landscape Ontario is that you are automatically linked with a huge network of peers, potential clients and suppliers. Not enough people take advantage of this benefit, and I think it is something that each member needs to start right from day one.
As you may know, when a new member joins Landscape Ontario, there is a bit of a procedure to go through. Once accepted, they receive a welcome package from home office. The package explains how to access benefits, order promotional materials and what chapter they are now a part of. If they are an active or associate member, they also receive their membership plaque and certificate.
LO held a focus group during Congress 2011 with a range of members in attendance, including several newer ones. One of the discussion items that came out of this meeting revolved around how we welcome new members, and more specifically what we could be doing to welcome those new members. The bottom line is not all people are willing to jump into something new without encouragement; this is especially true of people in horticulture where many work on their own, or with just a few crew members. This is not to say all people in horticulture are wallflowers, only that the average member is likely a bit more reserved than in some other industries.
So how do we break down those barriers to entry and make people feel they are a part of something bigger? Well, it can be as simple as that word I used to begin this article; check out the new member list in the back of this magazine. Odds are there may be one from your chapter, town or city. Look them up on
www.landscapeontario.com
and give them a call. Say, "Welcome to the association, hopefully you can come out to our next chapter meeting, seminar, social event, etc. The date is available at
www.horttrades.com/chapter/yourchapternamehere
."
LO home office and the chapter boards are also going to be making changes to add the personal touch to welcoming new members, but your help is appreciated, and I'm sure you'll find it a mutually rewarding experience.
---
Helen Hassard may be contacted at
helen@landscapeontario.com
.