January 15, 2009
Time to examine survival strategies
By Sally Harvey CLT, CLP
Education and Labour Development Department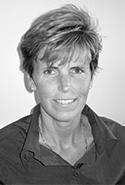 The Board of Directors of Landscape Ontario has formed an Economic Impact Task Force to help members in the landscape industry weather the economic storm. An avid group of association leaders has taken on this responsibility to work towards this end. I look forward to contributing to this group as a staff member.
As a business owner for the past 25 years, prior to taking on this role, this is not the first time, nor I am sure the last time when we will be required to create survival strategies. Funny, but each time, it seems that the platform we adopted at our company would set us up very well for the next era of growth. I tend to research all that I can, regardless of the challenge, in order to overcome it as positively as possible.
Some of us in the industry, or any industry for that matter, despise change and choose not to embrace it. Others become paralyzed with fear and uncertainty and are very much more dramatically affected by this approach. Remember that word: Choose. We have a choice on how we choose to respond, react or not.
I recently attended an energizing seminar, where the speaker reminded the audience that what we have been doing with success in the past, may not sustain us well in this changing economy. It is time to re-think where our businesses are at, and where we are going. These are exciting times! This imminent change in the business climate will provide us the opportunity to analyze our businesses, and re-align our systems and processes that will provide us with the tools to adapt and change with the new economic environment.
Those of us who decide to be progressive, by adapting positively to change as the competitive strategy, will have better success than those who choose the attitude of, "I've done it this way for the last 20 years and I am not changing it now," or simply take on the paralysis approach.
Reading and networking with colleagues, customers and vendors will help us all succeed over the next year or two. Remember that our ultimate goal in business is to maintain and grow our customer base for life, through exceptional products, services and operational systems that are facilitated and guided by excellent leadership, all resulting in solid financial health. Take the time now to research how you will invest in new systems to guide your team, and what processes you will use to achieve the next level. The Prosperity Partner Program will enhance this direction without a doubt. Register at:
www.horttrades.com/c?c=938
.
Our goal in our department, as contributors to this task force, is to facilitate positive growth and to help our membership create the systems and processes needed to ensure a positive outcome. I look forward to your input. Please e-mail me at
sharvey@landscapeontario.com
with your suggestions for seminar topics and speakers.