April 5, 2018
Tips for success at home and garden shows
By Denis Flanagan CLD
LO Manager of Membership and Public Relations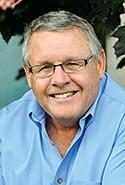 Once again, the Canada Blooms festival featured many spectacular gardens, displays and stunning flower arrangements — and once again we had very few visitors complaining! For those few people who just love to complain about everything, I would really like to organize a week-long tour of the event to show them what really happens behind the scenes in preparation for the festival.
The Canada Blooms staff and hundreds of volunteers make this event happen every year. They organize the timing and delivery of over 20,000 plants, design and create unique props, organize the floor plan, oversee design and installation of over 20 display gardens and organize a line-up of expert speakers. And there's a whole marketplace area to sell, organize, move-in and move-out.
The support and hard work of dozens of folks from the green profession allows the public to see fantastic examples of quality workmanship, creative designs and ideas to experiment with in their own gardens. Some plants are already at the facility for a week before the 10-day festival event gets started. An army of volunteers work after hours to replenish the plant material during the week and all plants are repurposed for community projects and donated to long-term care facilities.
As the buds turned to blooms at the festival, new buds were just starting to open up across Ontario. Landscape Ontario members participate in many local home and garden shows across the province each spring. I spent the last weekend in March at the Kitchener/Waterloo Home and Garden Show, supporting the Waterloo Chapter. Over the years the chapter has tried various approaches at the show and for the last couple of years the chapter have created a colourful garden space where volunteers engage with visitors and hand out white pine seedlings, packets of wildflower seeds, and copies of LO's Garden Inspiration magazine. These pros make sure to point out the pages that explain the types of questions homeowners should be asking of a contractor before signing on the dotted line. The chapter seems to have developed a formula that works very well.
Speaking of formulas, LO members Rob and Linda Tester of TNT Property Services have had a booth in the same home show for over seven years and were generous enough to share some tips on how to make the most of your time at a show.
Tester's top five tips for show success
By developing a relationship with show management, the Testers have negotiated a special rate for LO members in the show. And by supplying some colourful planters to dress up the show entrance and stage area, Landscape Ontario is recognized as an official sponsor, appearing on signage and in the show guide.
Partner with a local charity and hold a raffle for a planter or piece of furniture in your display. This adds some excitement to the booth, helps to collect information for leads, but most importantly shows that your company supports the community.
Do not clutter the design. Allow space in the centre so visitors can stand inside the garden, allowing you to have a conversation with potential clients. Have a giveaway so people can take something home as a reminder of your interaction (ie: water bottle, fridge magnet, etc.).
Create movement in the garden with a water feature, lights, fire, TV, etc. This helps to attract attention and act as a great conversation topic. This year's display featured a gazebo with a retractable shade roof which the staff were constantly demonstrating to visitors.
Stay upbeat and positive. Have fun! Home show visitors want advice and ideas, but also want to be entertained. Include something for all ages.
Thanks to the Tester family for sharing their tips and tricks. Please contact me for advice or support if you are interested in being involved in Canada Blooms or any other show across the province.
Denis Flanagan can be reached at dflanagan@landscapeontario.com or at 905-875-1805, ext. 2303.