May 15, 2014
By Rachel Cerelli
Membership and Chapter Coordinator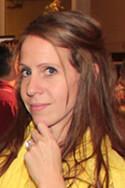 This past month we challenged our Chapters to grow our membership this year by five per cent across the board.
It's a healthy little competition that we hope will maintain a standard of professionalism and cement LO's reputation as the leader in representing, promoting and fostering a favourable climate for the advancement of the horticulture industry in Ontario.
There are so many fantastic companies, both large and small within Ontario. They should all be a part of our association. Together we are strong, and together we learn and thrive. You don't want to just ride on the coattails of our many leaders…Join them. You too can lead the way.
The climate in Ontario has taken a bit of a slip (to play on the pun of all the ice/snow we had this year) off the norm, which has taken a toll on some of you.
There are several members though, who have embraced their fellow Chapter colleagues and by working together managed to get through this tough time. Sometimes it is who you know that can make a major difference.
One member in particular managed to maintain the cost of salt all season in which some members paid over 300 per cent more than normal. This member helped several of his colleagues along the way. And, this is just a small aspect of how powerful it is to be a part of a large organization of people who all have the end goal of being prosperous and bettering the industry.
So, back to the Chapter/Membership Challenge. There are many of you who could use a helping hand, and many who could give a helping hand. A helping hand may mean nothing more than passing on words of encouragement and giving advice from years of experience. I would like to challenge each of you to attend at least one chapter/sector event within the next six months, and bring along one non-member. I can confidently say the experience will be rewarding for both of you. Remember, in order to grow and prosper as an industry, we need to band together. There is no better time than the present.
If you have questions about membership or what is happening in your Chapter, feel free to contact me by email
rachel@landscapeontario.com
, or call 1-800-265-5656, ext. 354.