March 15, 2016
Transforming an industry with one word
Paul Brydges
LO President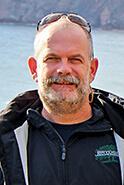 Congratulations to the new Board for 2016. I would like to personally welcome Lindsay Drake Nightingale to the executive as our new Treasurer and Blake Tubby as our new Member at Large.
The energy in the halls at Congress was electric this year. Each booth had laughter, friendship and business all tied together. Many friends and colleagues shared their success stories from the past season, but also wondered aloud where it had all gone. I was told once that as we age time accelerates. How quickly that statement has proven itself true.
The busier I get with LO, the more I value the feedback and camaraderie that LO has helped to build at events like Congress. Every aisle of the Congress floor has informal peer to peer meetings going on. As Tony DiGiovanni often states, we are "a club for mutual improvement."
During the Awards of Excellence ceremony at Congress there were far more winners in the $100,000 and over categories, now the mainstream for our profession. This shows me we are starting to get our message across to the public and there is perceived value in the work we all do.
The message that we are professionals and we bring expertise to your project every day and every time we interact is of primary importance. As the majority of people now live in urban centres, we as a culture have become specialized in our given profession. People are good at what they do, not what we do. The LO message of hire a professional member still holds true, more now than ever, with increasing project complexity. So how do we as members remind ourselves that we are professionals? And on that same thought then ensure that we, and our staff put that out to our clients and the public every time we interact?
Both Tony and Sally Harvey are doing a great job incorporating our new message using the words "profession" and "professionals" when discussing all our industry does. It is only a one-word change, but important enough that it changes the entire tone of the message. Individually, if each of us uses the word "professional" when speaking to the public or other industry professionals it will make it that much easier for people to see us as we truly are.
The other day I had an amazing discussion with Alan White, owner of Turf Systems. We reminisced about how we used to chat about staffing issues, then we talked about it more and more. Eventually we all started to yell that there was a problem occurring. Now we scream that we can't find help to carry on the way we envision our businesses going forward. So let's turn the scream into one of professionalism to bring new talent to us and help them to harness the same passion that we all have for what we do.
The Ottawa Chapter AGM in January had great energy as well. The new Eastern Ontario Regional Manager position (our own Sally Harvey) and her team of Theresa Whalen and Martha Walsh were welcomed as they start the journey to build closer relations with our government and further the fantastic work of the Ottawa Chapter. Martha's tireless efforts in the region now have additional support from our growing team.
I am looking forward to putting our professionalism message forward at Canada Blooms, March 11-20, and hope to see everyone at professional (industry) night on Mar. 17.
---
Paul Brydges may be reached at
paulbrydges.la@sympatico.ca
.