September 15, 2011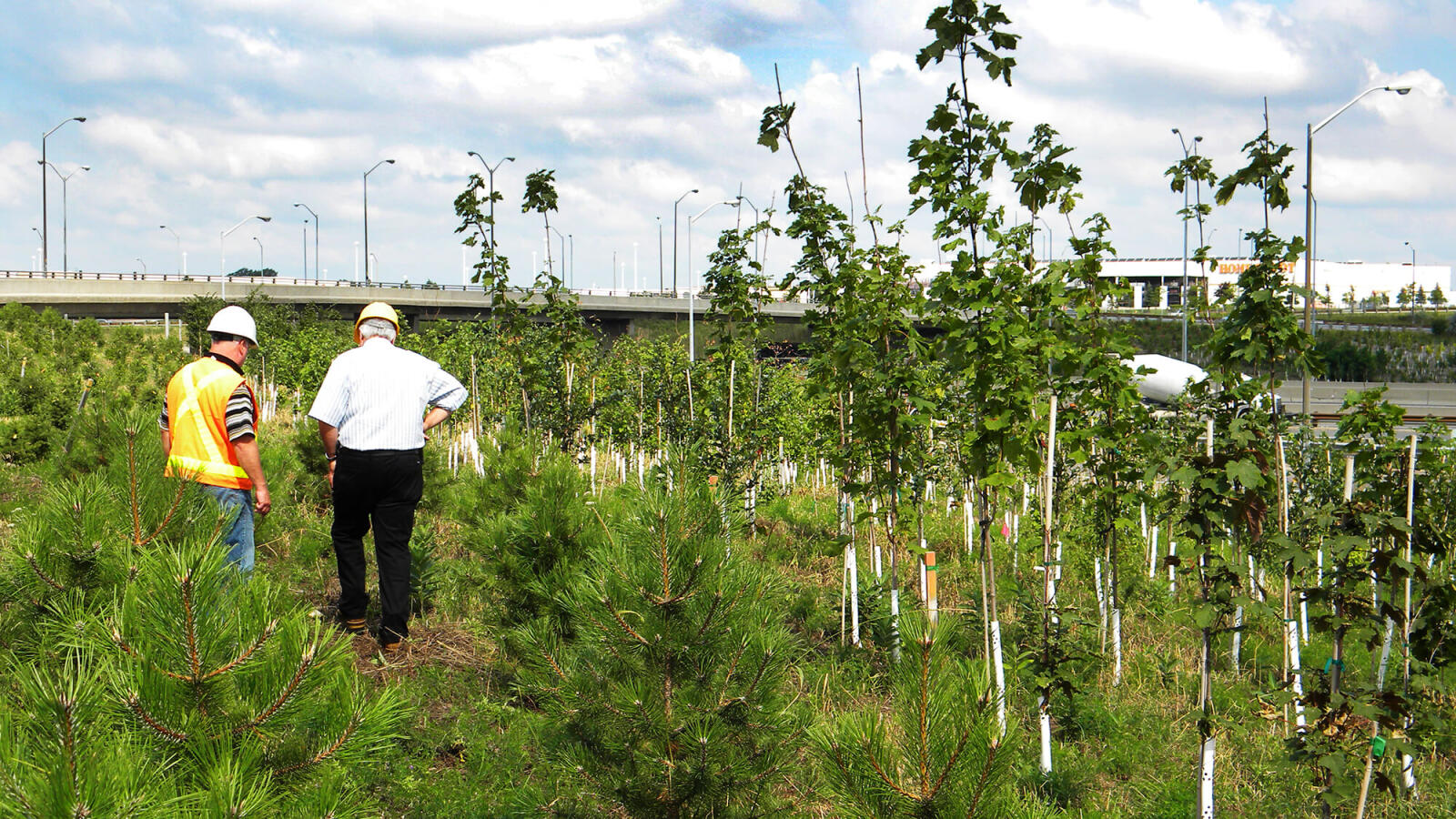 Trees show good survival rate at highway planting sites
Just over one year ago, two sections along on the busiest highway in North America received a green make-over.

A recent visit to the sites, where over 7,000 trees were planted last year, saw a survival rate from 70 to 90 per cent.

Ralph Mahler, roadside vegetation management coordinator with the Ministry of Transportation (MTO), said he was pleased with the survival rates among the varied species of trees. He accompanied LO executive director Tony DiGiovanni on the tour. Both men expressed surprise at the survival rates, but also at the vigorous growth of some of the trees.

The two sites are the intersections of the 401 and 427, near Pearson Airport, and 401 and Allen Expressway at Yorkdale Mall. Yorkdale features two sites; one a west-facing incline, and the other east.

The survival rate at the 427 site was around 80 per cent, despite an area of high water during spring and rainy periods. Surprisingly, a number of locusts planted there had tremendous growth, while oak showed better survival rates at this site than the Yorkdale site. This was true in reverse order for Norway maples that did well at the Yorkdale site, but poorly at the 427 site. Overall the Yorkdale site showed a 30 per cent loss on one section, while only 10 per cent on the other.

The project began in September 2009, when the Minister of Transportation at the time, Jim Bradley, announced at an open house held at Vineland that $1-million was being allocated to the project. Planting began in the late spring of 2010.

The partnership includes Landscape Ontario, Vineland Research and Innovation Centre and the Ontario Ministry of Transportation.

About 2,000 trees were grown at Vineland, as well as Braun, Willowbrook and Sheridan Nurseries. Trees chosen for the project were those resistant to winter highway salt and summer dry spells.

It is hoped that those varieties that show durability can be produced by Ontario nurseries to carry on further highway greening. A complete inspection is scheduled next year to evaluate the program.

Caption: Looking over the plantings at the Yorkdale site.