September 15, 2010
Two LO chapters enjoy ball tournaments
The 2010 LO baseball season included two tournaments, with Waterloo Chapter holding its event on Aug. 22 at the Bloomingdale ball fields, while the Toronto Chapter enjoyed a day on the diamonds on Aug. 15 in Richmond Hill.

Waterloo members had a fantastic day with plenty of baseball, ball hockey and barbecued treats. Overall, the day felt more like a big family picnic than a competitive day on the field. The Waterloo team members all earned their lunch by helping prepare food on the barbecue and shuck corn on the cob.

The tournament wrapped up with some exciting games between Moser Landscape Group and TNT Property Maintenance. Two games were required, as TNT went into the final undefeated, and could only be eliminated after being beaten twice by Moser.

Helmut Zgraja from the Waterloo Chapter Board, said, "Thanks to all volunteers, especially the Testers (Rob, Linda and family) with all the help cooking and serving."

The Waterloo tournament has been a fixture within the Waterloo Chapter for many years. Based on the comments by the players, the event will be around for some time to come.

Toronto ball tournament
Toronto Chapter hosted its annual tournament with ten teams competing for the coveted first place trophy. In the end the team from Arbordale Landscaping/Moonstruck Landscape Lighting was victorious, leaving Stonemen's Valley and Sheridan Nurseries in second and third place, respectively.

Shannon Kroon, a player on Stonemen's Valley, had this to say about the tournament, "It was a great day, and a good time for employees to get together outside of work and get to know each other."

Overall the tournament was a huge success and those teams that didn't win a prize, still enjoyed a great day and fantastic barbecue lunch.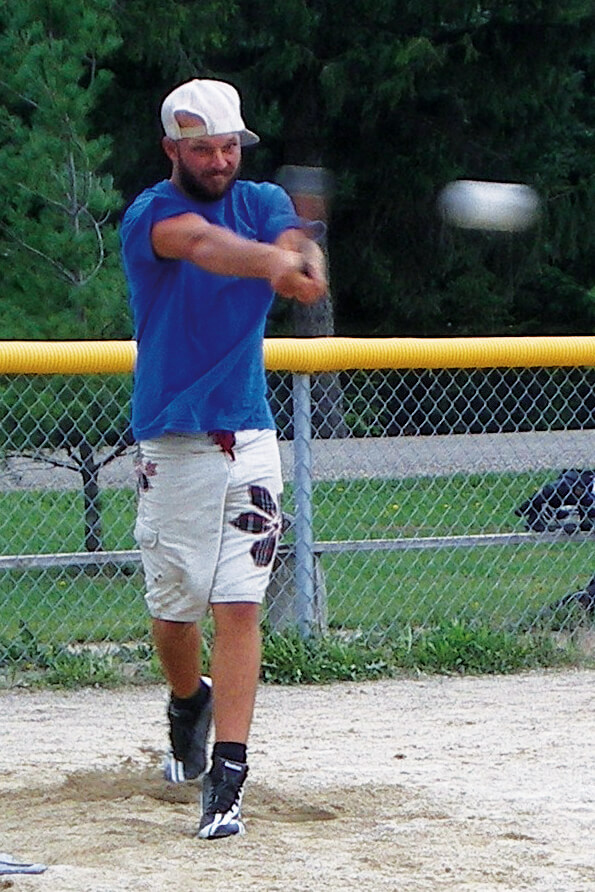 Blake Yensen of Moser Landscape Group takes a mighty swing to help his squad win the Waterloo tournament.
---