November 8, 2023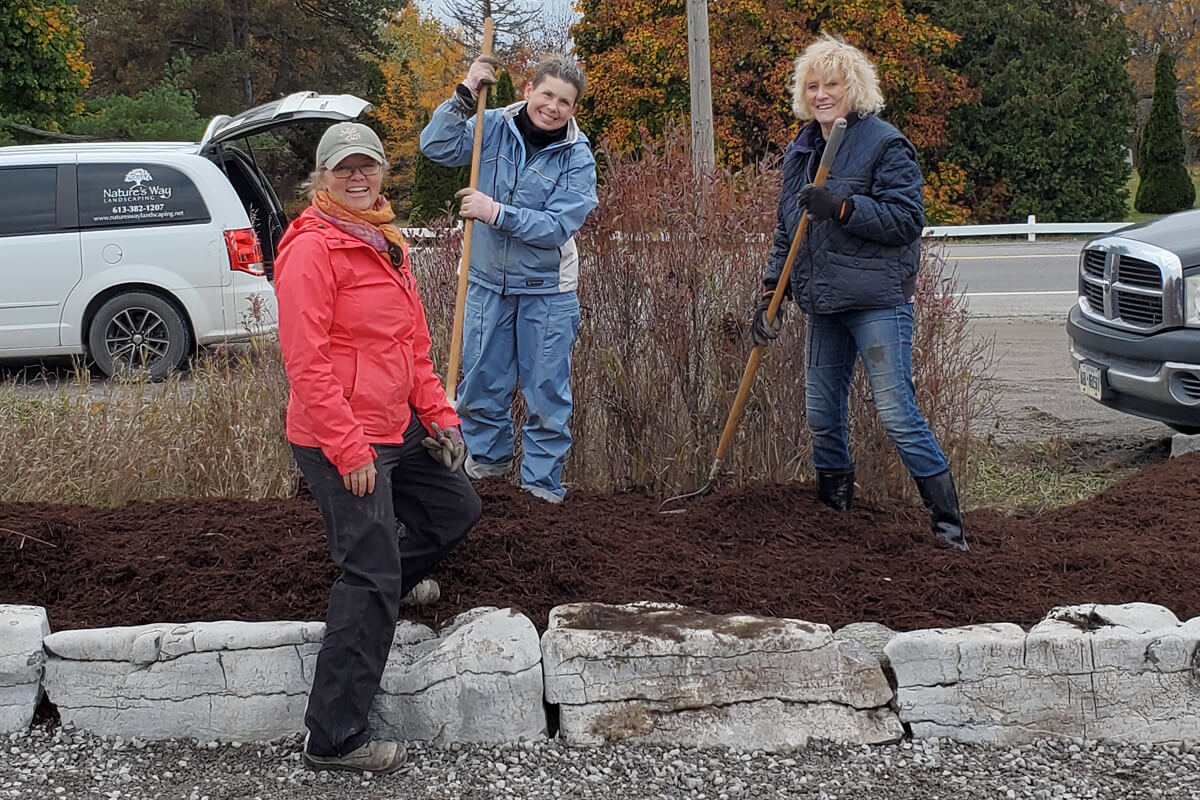 Upper Canada Chapter helps habitats thrive
By Julia Harmsworth
Landscape Ontario's Upper Canada Chapter made gains for habitat, green space, and environmental education in Kingston, Ont., in October.
Members of the chapter unveiled their finished landscaping project at the Indigenous Food Sovereignty Gardens on Highway 15 on Oct. 31. Stewarded by Walking the Path to Peace and other Indigenous- and community-based groups, the gardens provide a naturalized habitat for ecosystems to thrive.
The chapter sought to promote these efforts, and make it safer and easier for visitors to access the space. Volunteers created a gravel road and gravel parking space to improve vehicular access from the highway. They added a front gate at the entrance and an eagle's nest platform, which welcomes visitors into the space. Volunteers hope an eagle family will consider the platform home next season.
The chapter also created a soil berm between the parking area and highway, and planted sumac, serviceberry trees and white pine trees. Along with the eagle's nest, the trees will provide more habitat for birds and create an acoustic barrier from the highway.
At the back of the property volunteers created a flagstone patio with chairs adjacent to existing food gardens. The overall effect is a welcoming meeting place for gatherings and ceremonies, making the space a hub for Indigenous teaching, culture and community.
The main goal of the project was to re-invigorate the land, create habitats for wildlife, increase biodiversity and mitigate climate change through carbon capture and reforestation. It also sought to engage the community — especially youth — in the natural environment, giving them access to green space and encouraging them to think about their own relationship to the land.
"Creating that habitat for life to thrive is the focus, and education — making people aware of [Indigenous peoples'] culture and their attitude of reverence for growing spaces, and that we are all a part of the web of life," said Rhonda Derue, owner of Derue Designs and organizer of the project.
The chapter also hoped to heighten awareness of the meaningful work Indigenous communities are doing for the environment. Derue noted these groups have a lot of the same priorities as landscape and horticulture professionals: protecting green space, educating youth about land stewardship and mitigating the effects of climate change.
"There were a lot of boxes to tick with this, and I feel that we've definitely met our goals," Derue said. She added the project has already gained traction; Global News covered
the raising of the eagle's nest platform
while the project was in progress.
Giving back to the community on an annual basis is important to the Upper Canada Chapter. The chapter would like to thank all the members who donated their time, talents and equipment to the project:
Drake's Landscaping
Clermont Landscaping
Mark of Excellence Landscaping
Lamer Landscaping
Nature's Way Landscaping
Western Landscaping
Lavish Gardens
Derue Designs
The project was completed funded by the Upper Canada Chapter's fundraising efforts and generous sponsoring partners:
Utilities Kingston
Marshall's Garden Centre
Willows Agriservices
Planes Precast
Dibbits Landscape Supply
Home Hardware Gananoque
NVK Nurseries
Connon Nurseries (Trenton)
Lafarge
Corcoran Excavating Ltd.
Mulrooney Trucking
Battlefield Equipment Rentals