November 15, 2010
What are your priorities?
Tony DiGiovanni CHT
LO Executive Director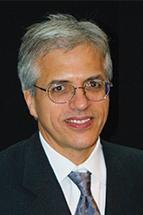 President Tom Intven and treasurer Jacki Hart did a wonderful job representing you at the Great Lakes Conference this year. They were articulate, intelligent, caring, empathetic, inspirational and humorous. I was proud of the way they represented Ontario. You would be, too.
The conference is an annual event that brings together nursery/landscape associations located around the Great Lakes. The purpose of the group is to discuss common issues and share information. Landscape Ontario is the only Canadian association, compared to eight U.S. states that were represented.
This year the Michigan Nursery and Landscape Association hosted the meeting. The event was held on beautiful Mackinac Island. There are always great ideas exchanged in an atmosphere of mutual improvement, benefit and respect, and this year continued that process.
Many in U.S. suffering
The slow economy in the U.S. permeated the discussions. Many U.S. industry members are suffering. Not surprisingly, most of the associations were also forced to downsize and adjust to a new reality. We have been fortunate in Canada because the banking crisis did not hit us as hard. Listening to what our American neighbours are going through, it was difficult not to have a sense of apprehension and a little fear. Could the same thing happen in Canada? Our economies tend to be interdependent. It was also difficult not to be inspired by their resilience and sense of hope for the future.
At dinner time, I sat beside a grower from Illinois. He told me that American growers are finding it particularly difficult. They are being forced to sell material below cost in order to generate cash flow. If things do not turn around, many will not survive. He felt they are in crisis mode.
Answers are possible
He asked me directly how I would solve the problems. The question took me aback. I am not a grower, and have no experience in what U.S. growers are going through. It would be arrogant to think I have the answers. I told him so.
However, my experiences and observations over the years have convinced me that answers are possible.
In times of trouble, it is hugely important to be involved with a community. Associations become much more relevant. Hard times reveal the myth of independence. Interdependence is the reality. Engagement with other association members in a spirit of mutual benefit will provide some answers, inspire action and lighten some of the burden that is associated with dealing with the issues on your own.
Why not convene a meeting of growers to discuss ways to deal with the economic changes? I know good ideas could be generated. It is so difficult to turn competition into collaboration, but the effort is worth it. Action is possible. There is always hope.
Growth not materializing
Back home, the headlines in the paper are warning that the predicted economic growth this year is not materializing. The finance minister announced we must lower our expectations. Although Canadian economic fundamentals are sound, we are not an island. Yes, it is a new world.
If the U.S. experience and the Canadian headlines are right, what should be our response? One thing I know for sure is we are never powerless or helpless. There is always something that can be done.
Recently, I was inspired by the actions of David and Denise Gaze of David Gaze Landscaping. In the face of a downturn in their business, their reaction was to give back to their community. They assumed leadership in building the Lighthouse Shelter Garden of Hope. What a bold statement. David and Denise's actions reflect their character, but they also elevate all of us in the landscape Industry. They demonstrated the Green for Life benefits of our industry in a very real way and on so many levels: practical, emotional and spiritual.
Their actions are a reminder that the economy, although important, is not everything. As a matter of fact, it is not even the most important thing.
What would people say
My wife is currently taking a university course entitled, Death and Dying. In one of the classes, the professor asked everyone to imagine they were present at their own funeral and listening to the eulogies. What would your family say about you? What would your boss (in our case customers) say about you? What would your friends say about you? What would your employees say about you? He then asked everyone to write down the speeches. He then told them that their life work was to make those eulogies come true.
In the hugely busy and stressful lives of entrepreneurs, it is very easy to lose sight of the most important things.
---
Tony DiGiovanni may be reached at
tonydigiovanni@landscapeontario.com
.