April 15, 2008
Tony DiGiovanni CHT
LO Executive Director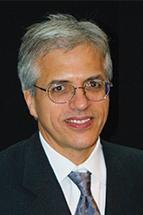 Last month at the CNLA meetings in St. John, N.B., I found myself sitting at a bar having a stimulating conversation with Phil Paxton about the mission of Landscape Ontario. Phil owns a landscape company in Alberta. He is also involved with a number of other businesses, including a group called TEC. This company provides one-to-one executive coaching to CEOs. (
www.tec-canada.com/what-is-tec/what-is-tec/
). In his spare time, Phil volunteers as the national certification chair for the CNLA.
Phil asked what I thought was an easy question. "What is the mission of Landscape Ontario?" Without hesitation (after all I routinely speak about our mission to hundreds of members), I responded, "To grow a prosperous, professional, ethical, recognized, valued and trusted green industry."
"I did not ask about your values," Phil quickly countered. "What is your mission? Why do you exist?"
I have been haunted by this question ever since. What is our mission? To me it is quite clear, however, there are so many ways to describe what we do. And, there are so many different words that can be used.
I have been observing members for years. During that time, I have watched members grow professionally, personally, financially, emotionally, and even spiritually, through positive interaction within the LO community. This is another way to describe what we do. We provide a catalyst for members' growth, contribution, prosperity, life enhancement and benefit.
I have also observed the awesome personal satisfaction that members experience through making contributions of time, resources and ideas in order to shape the future and leave something positive for others. This is also part of our mission: "To act as an agency for member legacy."
Many ways to answer Phil's question
Our official mission statement is: "To be the leader in representing, promoting and fostering a favourable environment for the advancement of the horticultural industry in Ontario."
Other ways to describe what we do:
"To grow a community for mutual benefit and improvement."
"To enhance lives."
"Prosperity Partner" I personally love these two words. They communicate so much as a mission statement, value proposition, vision and motivator.
In one of Stephen Covey's books, he describes a universal mission statement: "To increase the financial position and quality of life of the stakeholders." These all work for me. I wonder if they work for Phil.
However, Landscape Ontario is really only a name and symbol for a community of individuals like you.
Therefore, a more important question is: What is your mission?
A positive mission energizes life. To me, mission means contribution, benefit and legacy. Here is a list of benefits that our horticultural occupation contributes to society. It may help to crystallize your thinking around mission. This list comes from a literature review sponsored by Agriculture and Agri-Food Canada on the Documented Health and Environmental Benefits Derived from Ornamental Horticulture Products.
Download this study here:
http://canadanursery.com/Page.asp?PageID=122&ContentID=1056
.
It provides scientific documentation of our collective benefits. There are very few industries that contribute so much to the quality of life. Here are some of the ways in which what you do, counts.
Economic:
Reduce energy costs (heating and cooling).
Improve property values (residential and business).
Enhance beauty of buildings and communities.
Aesthetic contribution.
Improved privacy and security.
Assist municipalities in reducing maintenance costs and deriving new economic benefits, including economic spin-offs from parks, sporting facilities and increased tourism.
Environmental:
Moderate urban climate extremes.
Mitigate urban heat islands.
Produce oxygen.
Sequester carbon.
Ameliorate pollution:
Improve air quality (indoor and outdoor).
Remove contaminants from soil (phytoremediation).
Improve water quality.
Treat sewage and wastewater.
Improve water management (flood control) and erosion control.
Reduce impacts of weather through windbreaks and shelterbelts.
Reduce noise pollution.
Control urban glare and reflection.
Attract birds and other wildlife.
Lifestyle:
Reduce stress and improve productivity (workplace, schools).
Introduce calming effects and reduced discomforts.
Quicker recovery (hospitals).
Practice horticultural therapy to improve mind, body and spirit.
Long term care facilities.
Prisons.
Increase human health (e.g., use in medicine).
Improve life satisfaction and well-being:
Increase positive emotions.
Improve general quality of life in urban settings.
Create pride in community through municipal gardens and allotment gardens.
Attention and concentration improvements for children.
Reduce aggression and violence.
Provide space for recreation.
Enhance sport field safety.
Encourage healthy active and passive lifestyle.
I hope Phil's question haunts you as well. Feel free to share your thoughts. I would love to start a collection of member mission statements.
---
Tony DiGiovanni may be reached at
tonydigiovanni@landscapeontario.com
.